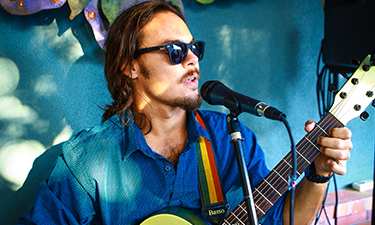 Mario Luma music reflects his years performing on streets of Brazil and USA and his exposure to a wide range of music, from folk to popular and from the profane to the sacred. Embedded in Marauak's soul is the pulse of Afro-brazilian rhythms and the power of chants.
Listening to Mario Luma's music you feel the influences of classic Brazilian Bossa Nova, Samba and Contemporary (MPB) along with a combination of Reggae, Dancehall and Hip Hop. His greatest strength is a rare musical fusion of Brazilian Classics with America's African-Influenced beats (Jazz, Soul, Funk). Mario's repertoire is made of originals, in English and Portuguese, and reinterpretations of other artists. The result is an unique experience for his audience.
Testimonials
"The night went really well!"
Blake R., Oceana Coastal Kitchen
December 2022
"Mario was great and the guests loved him!"
Amy M., Hard Rock Hotels
March 2020