There are plenty of special moments and traditions that have been a part of every couples' wedding day. Some more common than others, and some not so much. Whether you are incorporating an old classic tradition or something modern and new, here are some special wedding moments to consider having music for during your special day.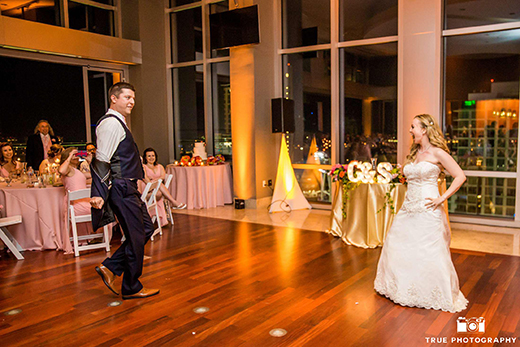 1. Money Dance
The "Money Dance" has been a part of traditional weddings for some time now. If you are not familiar, guests have the opportunity to dance with the bride or groom while pinning money on their tuxedo and dress. This is sometimes referred to as the "Honeymoon Dance" as well because the married couple can use the money to help with their honeymoon expenses. When coordinating music, some couples already have a music playlist put together or leave it up to the DJ to decide. Either way, this wedding tradition is a good way for the bride and groom to interact and have fun with their guests.
2. Anniversary Dance
The "Anniversary Dance" is a great way to celebrate all the married couples who are in attendance at the wedding. When it starts, the DJ or MC usually asks all married couples to get on the dance floor and one by one, couples will dance for as long as they've been married. Timeless classics are always a good choice to go with for this tradition. Think "Unchained Melody" or "Can't Help Falling In Love," but in the end, it's really up to you about what vibe you want to set, so have fun with it!
3. Bride & Groom Performance
When the Bride & Groom decide to put on a performance, it's always a fun and exciting experience. Anything can be done from a dance performance to singing and letting all your guests hear those chops. If this is something you've thought about doing, you definitely have to coordinate with your DJ to make sure everything is on point from the song selections to the music queues. It's always a nice way to give back to your guests and have a good time while setting the tone and vibe for your reception form the get go.
These are just a few suggestions we have that involve coordinating with your DJ. Be creative and have fun because everyone says that this day goes by like a blur. These are some things you can discuss when meeting with potential DJs to see how they can accommodate. And as always, make sure to check out our artist page for some great options for wedding entertainment. SGM Events has you covered with top quality DJs instrumentalists and vocalists alike! Best of luck with the planning!