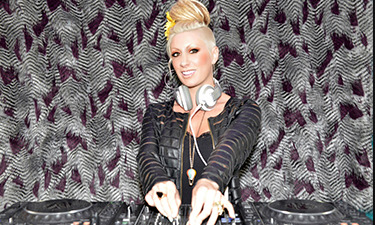 Born into the arts, Autumn Leilani has spent her lifetime creating a world of beauty, music, dance, art, positivity, truth, reality, escape, love and adventure. From a very young age her days have been devoted to writing and producing music, singing, dancing and DJing. Being surrounded, educated, and inspired by every type of musical genre has allowed her to become diverse in all of her creations. Autumn has spent many years traveling all over the United States performing as a DJ/singer for events, corporate parties, retail events, clubs, bars, festivals and MUCH MUCH more. She plays ALL styles of music with a collection of over 100,000 songs updated weekly with Beatport, DJ City, Club Killers, Soundcloud, Music Charts, and other music blogs. Autumn is an OPEN FORMAT DJ but finds her true passion in the musical genres of House, Techno, Funk, Soul, and Old School. She has played alongside horns, strings, drummers, guitarists, and vocalists (herself included).
Autumn's original productions capture a dramatic feel with the presences of live cello, grand piano and guitars, all of which she records herself. Keeping her heart in house music, most of her music is "four on the floor" with different vibes including, Tech House, Deep House, Funky House, NU Disco, Tropical House, and Techno. If you are not dancing to her music you are certainly feeling it!
Autumn also plays as a "House/Techno" DJ Duo "sheSAID:" with Shanda Conners aka Trovarsi that incorporates live production through Ableton, the APC40, The Roland TR8, and The Korg Volca Series. This DJ duet is definitely taking things to the next level. These ladies have played at some of LA's hottest nightclubs and been featured on "In a Dream with Mystic Pete's" Radio show on KXLU. Together sheSAID: owns and operates "The Vibe Lounge LA" that features DJs from around the world and Sidechain Entertainment, an event company, and agency that books talented and dedicated DJs for any special event.
As a Graduate and scholarship winner of SAE Los Angeles Audio Engineering school Autumn Leilani is a major problem-solver in technical situations and is well versed in Ableton, Logic, and Protools. She has worked in recording studios and done live sound since 2011. She personally writes and records all of her work as well.
Autumn Leilani is a fun, energetic, positive, professional, experienced and easy to work with entertainer. She has over 10 years of experience in satisfying your personal musical needs. She has traveled all over the United States performing as a DJ/MC for over 100 private events!
As a DJ her goal is to make sure everyone is having a positive experience. She is willing to do what it takes to get the dance floor jumping, it is her personal goal to create amazing memories for all event attendees. She prides herself on being kind and genuine to all your partygoers.
She will guarantee you a reliable, professional, polite, fun, energetic and exciting experience when booking her services.
Music genres:
OPEN FORMAT, Deep house, Tech House, NU Disco, Funky House, House, Hip Hop, Top 40's Electro Swing, Techno, Downtempo/Lounge, Trip hop, Garage, Indie, Break beats, Old school, Latin, Glitch/Dub, Funk, Soul, Punk and all genres of Rock!
Upcoming Events
Dec 9
Autumn Leilani
Hard Rock Hotel (San Diego)
Testimonials
"Great per usual! High energy and gets the crowd going. Need her booked more here as she gets the crowd!"
Krista B., The Tavern
November 2023
Would love to book her more often! :)
Krista B., The Tavern
October 2023
"Autumn is always great to have. She knew what was going on around town that night and had music ready to go for the crowd that night show up. Always great attitude and energy from her."
Aron L., Barleymash
September 2023
"Autumn was amazing, high energy and pumped up the crowd. It's always a pleasure working with her."
Edi H., Harrah's Resort
July 2023
"They very much enjoyed her music! She killed it, and it was a fun party! Thank you."
Jessica C., The Local Downtown
October 2022
"She is a favorite of ours."
Jessica C., The Local Downtown
August 2022
"Excellent job! The set was great! She was very in tune to the guests and wanted to play what the people wanted. On time and very professional. We would love to see her more!"
Aron L., Barleymash
June 2022
"She was amazing tonight. Had the dance floor up and going as soon as she jumped on the turn tables. After her last set, the crowd cheered and applauded her. Great energy all night long."
Aron L., Barleymash
April 2022
"She killed it. Had the dance floor going all night long. Several compliments from regulars and staff with her play set and overall ability to read the room and give the guest a memorable experience."
Aron L., Barleymash
March 2022
Tony S., Viejas Casino
October 2021