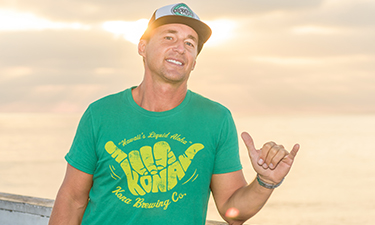 Singer songwriter Casey Turner has a distinct sound that glides on an upbeat easy vibe. With his ukulele and easy on the ears vocal, Casey Turner manages to mix a light reggae vibe with an easy acoustic rock feel…and this is what makes his music unique but yet familiar.
Casey Turner performs live with his loop station allowing him to record live in front of the audience building the music into full songs.  Perfect for all events (indoor or outdoor / intimate settings to concerts) as he keeps the sound full yet has complete control over volume levels making sure your event isn't over powered by the music. Casey Turner has performed at venues such as Belly Up, House of Blues, Viper Room, Dukes, Mai Tai Bar, Oakley event, 4th and B, Rip Curl Pipe Masters event, Surfrider Foundation, Turtle Bay Resort, Catamaran Resort, Paradise Point and many more.
Testimonials
"Casey Turner did a fabulous job last night. We were thrilled with him, as was the client. Thank you so much for your support with him."
Tonya T., Destination Concepts Inc.
January 2015