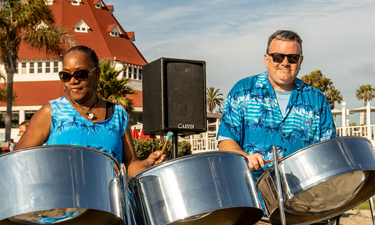 Robbie Hutchinson Calypso Fusion is a steel drum band that can perform many styles of music including classic Reggae, Calypso, Soca, Jazz, Pop, and Latin music. Steel Drummer Robbie Hutchinson is one of the few Americans to have played for many years in Trinidad's annual Steel Drum competition. His authentic sound and creative touch makes him one of the legendary steel drummers of our time!
Take a moment out of your day to listen as the steel drum music floats through the air, light as a feather, but able to take the weight off your feet, and transport you to a tropical paradise!
Testimonials
"Friendly and professional. Lovely couple."
Silvia S., Gurtin Municipal
March 2020
"The musicians that performed at my husband's party were fantastic!  I would rate them higher but words fail me.  Everyone thoroughly enjoyed them.  They looked and sounded just like a slice of Jamaica.  I even saw some friends dancing who usually will not get out of their chairs.  My daughter (who works at the hotel) and I will be sharing this same information with the catering/event planning manager.
We are hoping to have a late summer back yard party and you can be sure that we will call you to have them provide the music.  In the meantime, I will be sharing your and their names everywhere I go.  Many thanks!!!"
Marilyn S., Party Host
July 2014