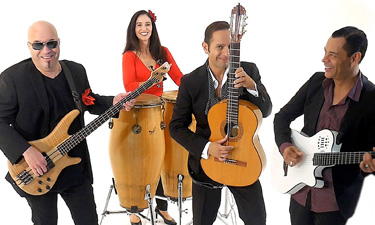 The leader of Gypsy Fiesta is San Diego based French-American musician Josquin des Pres who grew up in the south of France. France was the epicenter of Gypsy Flamenco that took the world by storm when the Gipsy Kings invaded the airwaves in the late 1980s.
This now popular sound that had taken birth in small Gypsy communities in the south of France has now become a worldwide phenomenon.
Following a history of collaborations with various members of "The Gipsy Kings," Josquin Des Pres launches GYPSY FIESTA. Based in So-Cal their earthy performances – deeply rooted in gypsy heritage – bridge past and present, blending American and Latin pop hits with Gipsy Kings standards. Gypsy Fiesta captivates audiences with the passionate, rousing sounds and soul of Gypsy Flamenco while appealing to fans of all ages.