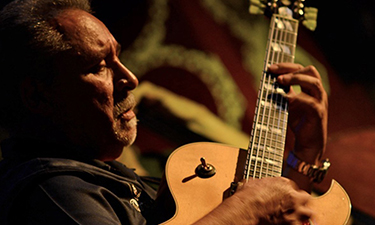 Lyrically-gifted veteran guitarist/composer/band leader Jaime Valle has refused to allow his growing success of the last several years slow him down. No mold decorates Valle's frequent treks from Tutto Mare in UTC on Wednesdays to the U. S. Grant Hotel downtown Saturdays, to La Jolla's Lime Leaf Grill on numerous Thursdays or Fridays, as well as an occasional jaunt up to Nieman's or to the Coyote Bar in Carlsbad (and countless casual gigs all over San Diego county) in between.
Jaime Valle also holds forth for Sunday brunches at Sally's in downtown San Diego and admits that he enjoys the rapartee of playing with bassists such as Chris Conner and Bob Magnusson since both have spent time in the company of musical heavyweights whose influence informs their work and makes the job of creating "duo music" an exercise in versatility.
Versatile is a term that captures Jaime Valle's professional outlook. He carves out a ferocious weekly schedule, playing Latin jazz and straight- ahead jazz. He books several local clubs. And he writes music for movies and for commercials. "Those are jingles," he notes, "some people call them that, or worse, but the trick is to make these little tunes rise to the level of listenable songs that hook you." He chuckles when he says these words. Valle is a musician whose infectious good taste and well- acknowledged sense of humor on stage attract new admirers to his ever- expanding fan base.
"We have had full houses at the Grant Grill pretty much ongoing now for three or four years and these people come to hear my band smoke, see? This is serious business," he adds. "Saturday night crowds do not want wallpaper music. They want dynamite, nitroglycerine, the musical equivalent of the hydrogen bomb. Our fans in San Diego are the greatest anywhere. They love a good time. My band 'Equinox' is there in living color to blast off and let them have it."
Jaime Valle's playing exists in living color – as concocted by a manic combination of guitarist Jimmy Raney, comedian Sid Cesar, and choreographer Tito Puente. When Valle gets cranked up, he's likely to dance across the enclosed stage at the Grant Grill, rooted on by veteran bartenders, Jerry and Bubba, as well as a swirling throng pressing the stage railings with their gyrating salsa steps and vocal enthusiasm. "All in a Saturday night's job," he claims. "The energy is there, you can touch it."
Valle pauses, quiet with calm inflection. "The energy is everywhere people are happy, full of life, and just plain hip. Our job as musicians is to play the best music possible and make sure that folks feel it. If we do that, they get their money's worth. I try to make certain the whole room gets more than they expect. I want to send people into the streets dancing. I want them exhausted by the sheer joy of being with us doing our thing to the max – dig it?" Valle arches his eyebrow and you know you dig precisely what he means.
"But my music has its own inner direction, too," he notes. "I am changing as a guitarist all the time. I listen to myself and I listen to great musicians like Gene Bertoncini, who lives in New York, and Mike Wofford who lives right here in San Diego. I listen to the ageless cats like Wes Montgomery and Joe Pass. And I listen to horn players, too, like Charlie Parker, John Coltrane, Woody Shaw, vibraphonist Cal Tjader, Dizzy Gillespie. These are the people who laid it down for all of us to build from. Their lessons are not only alive and viable. They are permanent and sometimes insurmountable. Our task as serious, committed players is to surmount those musical mountains. We have to get up each day and climb forward. That's my main job: to play better each day."
Valle has taken on a related job that augments his weeks of playing, composing and booking fellow musicians. He is putting together a summer jazz series, sponsored by radio station KSDS-FM (88.3 on the dial), at the Elephant and Castle restaurant on Harbor Drive. "All of it will be broadcast live on our great local jazz station," he says with a twinkle in his eyes, "and I think a lot of people here in town are going to find out, maybe for the first time, how incredible the jazz scene in sunny San Diego county really is. You can't tell that by the number of clubs. All you have to do, though, is listen to the musicians and you'll hear how great we have it right here in our part of the woods – very tasty, very hip, very high energy intelligence with all the lyrical trimmings."
Jaime Valle laughs at his own comment. His laugh is contagious. It seems to erupt as a force all its own. You sense, listening to him play, listening to him talk, that the life force that pervades his thinking is exactly the force that defines his melodic persuasion. It is a force that translates into a useful ear-appealing habit on stage, something he learned long ago, on the way up from his roots south-of-the-border.
Valle's tendency is to call a set on-the-run, inflected with the mood of the evening as it evolves with its own internal logic. He refuses to stop and confer with his colleagues between songs. Jaime Valle seems to hate, quite literally, anything that breaks musical momentum. The flow of music is the thing he treasures. Taking his fans on a ride – from a subtle classic jazz line by Benny Golson ("Killer Joe" or "Along Came Betty") to an obscure but haunting Guatamalean folksong, to an Antonio Carlos Jobim medley, and on to a minor classic by Horace Silver (such as "Peace") – Jaime Valle is a cat on a hot, welcome roof of his own devising.
"He seldom stops and seems to leap, like a dancer with an urgent purpose, from one rooftop to another. Valle's musical mantra is on display there. It reads like this: "Let no one wake up strong and sober who is not ready to share happiness so its energy is a community project."
-JIM MEROD – Jazz News
A private man with a public purpose, Valle is clear about such goals. His mantra, useful in any profession, goes a long way toward fulfilling its own large mission.
Testimonials
"Thank you for your participation in PuppetConf 2016. We greatly appreciate the work you put into the event. We were very pleased with Jaime Valle's performance. We hope to be able to work with you again on future events."
Kylee M., Magnify Communications
October 2016
"SGM Events and Jaime Valle were top notch – thank you for being so responsive and professional in all aspects!"
Norma A., Housing Capital
June 2015
"Jaime Valle and his associate were great. They arrived early, got set up, and were a pleasure to have provide the entertainment for the evening."
Pam G., McAfee
June 2015
"SGM Events is outstanding! Freddie made finding, selecting, contracting the talent for Smooth Sundays a breeze. He selected the perfect artists for our inaugural season!"
Craig L., Omni Hotel
April 2015