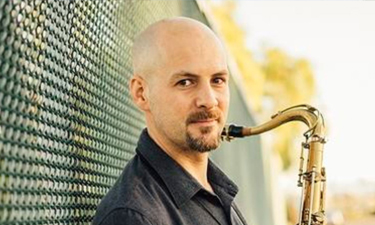 Saxophonist Ian Tordella is an emerging voice on the West Coast jazz scene, and has worked with guitarist Peter Sprague, pianist Joshua White, saxophonist Jason Robinson, and others. His sound is rooted in the hard- bop players of the '50s and '60s, drawing inspiration from Sonny Stitt, Hank Mobley, Joe Henderson, Wayne Shorter, and Coltrane. Tordella's jazz compositions, however, incorporate sounds from trip-hop, rock, and electronica; Ian Tordella cites Meshell Ndegéocello, Stereolab, and Warp Records as influences, alongside jazz composers like Wayne Shorter and Kenny Wheeler. Raised in the Washington, DC area, Ian Tordella attended the University of North Texas before transplanting to California in 2003, where he furthered his studies under altoist Charles McPherson.
"Ian Tordella has a highly evolved saxophone technique that seems to be modeled on Wayne Shorter, both in his playing and composing." –San Diego Reader
"Runs changes with the best of them and plays with a full and clear dark-toned energy."
–jazzreview.com
"The horizons that the California saxophonist opens for his listeners are impressive"
–Jazz Quad Magazine, Belarus
"Ian Tordella's chops are apparent throughout the album, but what separates this album from most other debuts is his restraint."
– Magnolia (2010) review, jazzhothouse.com
Testimonials
"The band was great, the group really enjoyed them and they were a perfect fit for Oxford."
Lisa B., Pendry
February 2020
"Thanks again for the AMAZING sets on Saturday Kerry Glass and Ian Tordella… great job!! You guys nailed it. Exactly what the client wanted!"
Janice D., Janice Dodge, Inc.
September 2016
"The feedback from our tenants has been great. Everyone loved it and Ian Tordella's performance really helped bring people into the center. It was a success!"
Tara M., La Plaza, La Jolla
August 2016
"Everything was stellar! Looking forward to next booking. Ian Tordella was awesome!"
Janice D., Janice Dodge Events
May 2016
"SGM Events is outstanding! Freddie made finding, selecting, contracting the talent for Smooth Sundays a breeze. He selected the perfect artists for our inaugural season!"
Craig L., Omni Hotel
April 2015
"Professional staff, well versed in knowledge. I had no worries and it was above my expectations."
Janice M., DIRECTV
January 2015
"It went great!
Ian was fantastic and everyone enjoyed the evening of fun.
Thanks for sending Ian my way."
Janice M., DIRECTV
November 2014