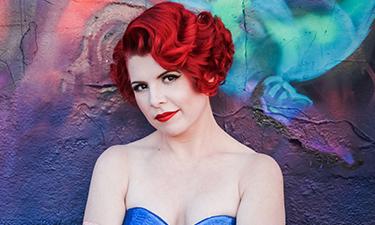 Whitney Shay, described as a "musical force" and someone who "sings with the depth and mojo of a woman twice her age" you might not expect such a voice to come in such a small (yet very exuberant) package. It seems almost from the very beginning that Whitney knew she wanted to be a performer; Whitney Shay got her start in her first production at the age of three. In 2009 she decided to make the transition from acting in theatre to belting blues & jazz, and ever since has been in high demand. Singing at a myriad of venues performing more than 200 shows per year. Whitney Shay is a versatile performer who is able to fluidly transition from blues to jazz to R&B and soul with heartfelt sincerity. Whitney Shay is the 2017 San Diego Music Award Winner for Best Blues Artist, and was nominated for Best Live Performer, and for Best Blues Album (Soul Tonic). Whitney Shay was nominated for "Best Jazz" in San Diego City Beat's 2017 Top 5 Best of Issue.  Whitney recently returned from her fourth tour of Brazil and she has performed at festivals in Mexico and Argentina. Her music has been heard in films and commercials worldwide and one of her songs can be heard nationally on NBC's hit show "Timeless."
Testimonials
"Whitney and Ed were amazing as usual! We feel so lucky to have them as part of our holiday event."
Sarah K., Edward Jones
December 2022
"Great follow through by entire Sleeping Giant staff. Thank you for all your help! Whitney was fantastic as always and took our event from a gathering to a party. Thank you!"
Sarah K., Edwards Jones
December 2021
"What a great show! Loved having them for our anniversary party! They were able to really set the mood and entertain all guests."
Aron L., Barleymash
June 2019
"We were thrilled with Whitney Shay and Ben, the piano player. They were INCREDIBLE and ended up being a bit of celebrity in the room. We had several guests know her and were so thrilled she was there. They were so easy to work with and really made our event a party."
Sarah K., David S. Tam
December 2018
"Thank you for everything! Whitney was fantastic!"
Sarah K., Edward Jones
November 2018
"We had a fantastic experience with the Whitney Shay Band and received exuberant feedback from our guests – even moved to tears! They made the party. We felt we hit the lottery with our artists and are incredibly grateful. Extremely talented, professional, personable, easy to work with and fun. THANK YOU!!!"
David T., Edward Jones
November 2018
"Billy was great to work with. Whitney was the absolute highlight of the night! Great performance and energy – our guests loved the band!"
Silvia S., Gurtin Municipal
February 2018