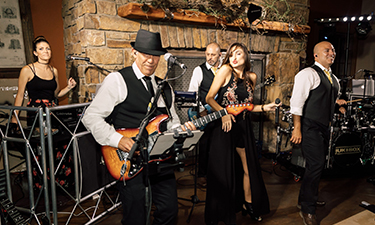 Why choose between a Band or a DJ when you can have BOTH? Jukebox will give you and your guests both a LIVE DANCE BAND and a DJ CLUB VIBE experience! Jukebox is one of San Diego's hottest bands and was recently voted the nations #1 Cover Band of the year (two years running).  In addition, the band has been featured on David Tutera's hit wedding reality series "My Fair Wedding."
Jukebox integrates the DJ as an on-stage member of the group, similar to the famous pop group " The Black Eyed Peas." This adds to the band's versatility to play your favorite, modern top 40 hits straight off the charts, mixed in with some classic favorites updated with a modern twist!.
Jukebox has the unique ability to give you constant, ongoing music as DJ and Band weave in and out of songs with seamless transitions. This means that THE PARTY IS NON-STOP!
Testimonials
"The band was AMAZING. I kept hearing compliments about them left and right."
Kim S., MCT Inc.
October 2021
The event went great! The clients loved Jukebox and were dancing until the lights went on. They didn't want the event to end. Thanks so much!"
Paige B., Music Box
December 2017