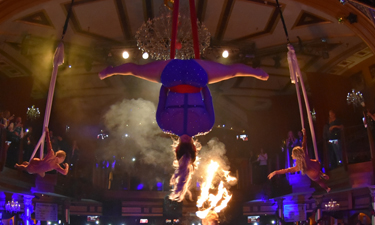 Mami Chula is a premier female DJ in Atlanta spinning the best of Pop, Hip-Hop, Dub-Step, house, Top 40, and trap music in open format. In addition to her radio accolades, she has toured with the platinum recording artist Jagged Edge, Ciara, The Game, and Snoop Dogg on his "The West Was Won" Tour. She has appeared on the Ellen Degeneres Show, Source Awards, and B.E.T.. Recently, Mami was the DJ for the Atlanta Dream WNBA playoff games at Phillips Arena.
Mami Chula's long radio career has given her particular notoriety in the city of Atlanta. Her career started on one of the biggest hip hop stations in the country, "Hot 107.9". As she built her name in the ATL, Mami was re- cruited to the rhythmic station "955 The Beat". There, in a male-dominated time slot, she skyrocketed in po- pularity and consistently brought in high ratings week after week.
MC moved on to "Wild 105.7" and 96.7 in Atlanta doing nights at 6 pm Monday through Saturday. Her mix show "The Mami Mix" every night starting at 8:20 gave her show unrivaled uniqueness that set her apart from other DJs. The "Mami Mix" was featured on the "Elvis Duran show" every Friday morning as well as "Y100" in Miami, Florida. She is, to this day, one of the only female personalities/DJs in the top ten market that had her own show and mix show.
Mami Chula now works with Fit Radio, a smartphone app specializing in high-ener- gy workout mixes of all genres. She continues her passion for music by the ma- naging 75+ DJs as well as creating mixes herself regularly. With 3.3 million li- stens on the app, she is consistently one of Fit Radio's top DJs. Her duties also include vocal training and producing audio workouts, a main feature on the app.
With this new endeavor into Aerial DJing, MC has created an experience that is electrifying, and completely unique. She has worked tirelessly to combine the two biggest passions in her life – DJing and aerial silks. Her first show was at one of the biggest clubs in Atlanta, Opera nightclub, on New Years Eve 2016. An amazing success, the club sold out and patrons have begged for another performance since. With "Fly Girl Collective", Mami Chula is well on her way to making this show a must-have for businesses and clubs alike around the world.