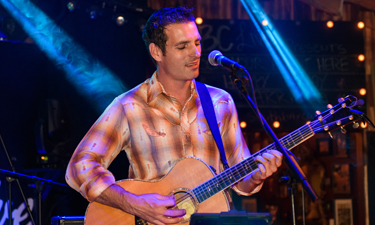 Matt Commerce is a Virginia-born singer/songwriter who's style blends subtle hints of soulful acoustic folk/rock with the laid-back, surfy vibe of Southern California.  For 15 years, Matt has entertained for parties, weddings, and corporate events all around the United States, and has shared the stage with legendary artists such as Usher, Sheryl Crow, Natasha Bedingfield, and Stevie Wonder.
Matt's repertoire ranges from today's chart toppers, through the wide reaches of rock and roll, all the way back to the classics of the 40's and before.   Whether performing Bob Marley or Bob Dylan, John Mayer or Johnny Cash, Matt brings each song to life with his fresh acoustic arrangements and easy-to-listen-to sound.  He is comfortable playing as an instrumental guitarist, or a guitarist/singer, and has recently added harmonica and ukulele as well.
Matt Commerce has been a full-time performer since 2003, and is professional and prepared in any setting.  He loves working with people, and helping to turn their visions into reality.
Testimonials
"Matt was amazing and everyone loved the music at the ceremony."
Ilene K, Bride
February 2022
Benjamin E., San Diego Tourism Authority
February 2020
"The Matt Commerce Trio was great!"
Joey B., Chairmen's Club Program Manager
May 2016
"Matt Commerce was awesome!! Several people made comments about how great he was."
Krysten L., Koncept Events
February 2016
"Matt Commerce was a great artist. He understood and played to the feel and environment we asked for during our wedding welcome and ceremony."
Nick C., Groom
June 2015