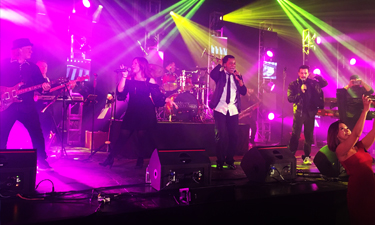 This supreme seven-piece multi-cultural mix of musicians and singers entertain throughout the world, and are guaranteed to please audiences of all tastes with their extensive and diverse collection of material. The Mighty Untouchables offer everything from Motown to classic rock, along with Latin, country, current pop hits, and much more. Their repertoire includes songs from Bruno Mars, Cee Lo Green, Earth, Wind & Fire, Four Tops, Marvin Gaye, Michael Jackson, Prince, Santana, AC/DC, Stevie Wonder, The Temptations, and Celia Cruz just to name a few! If you want fun, excitement and dancing, with your party-goers enjoying a cool and classy scene, this band delivers an event your guests will remember for years to come. Having earned a superior reputation with their private, corporate, philanthropic and wedding clients, these committed performers will work to ensure the success of your event. While "fun" is the desired result, the professionals from The Mighty Untouchables take the planning and execution of every event very seriously.
Mighty Untouchables Music
Testimonials
"Greatest, I would use you every time I am in California!"
Lisa H., Pareto Health
April 2023