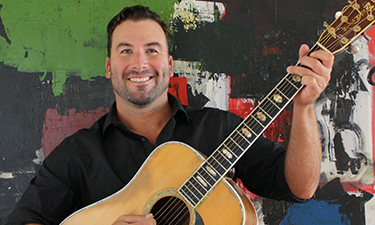 Matt Sandoval's diverse musical palette, sweet soothing vocals, and charismatic stage presence have made him a crowd favorite for creating a fun, yet relaxing live acoustic musical experience.  His professionalism has been showcased at various venues and festivals up and down the west coast for the past decade. Born and raised in a California surf town, Matt Sandoval is truly a product of his musical environment.  This upbringing has attributed to his sound being heavily influenced by the genres of reggae, rock, world, and neo-soul. His style is in a realm that is reminiscent of singers, Bob Marley, Slightly Stooped, Sublime, Jack Johnson and UB40. Sando delivers to his audience, whether it be a rowdy festival or a fine dining musical event.  Matt Sandoval's set consists of his own original pieces, mixed with contemporary and classic covers.  This gives him the versatility to cater to any group regardless of generation or culture.  At his performances, it is not uncommon to see teenagers, adults, grandparents, and even toddlers all grooving to the same song. Whether he is at a downtown nightclub or a barefoot beach bar, he gives the crowd what they fiend for. Not many acoustic musicians are capable of satisfying so many different tastes in one shot, but Matthew's passion and experience make him the perfect live acoustic musician for any occasion. It's because of his commitment to satisfaction and his deep love for music that he delivers sets that always leave his clients happy and yearning for more. Matt Sandoval is sure to make your event one that your guests will cherish and remember.
Venues & Companies that Sando has worked with: San Diego Beer festival, Revolt magazines Pacific Beach Fest, World Beat Center, Barwest, Sand Bar mission beach, Moon Doggies, Offshore Tavern, La Jolla Crab Catcher, Beaumonts, The Harp and Gallaghars Irish Pub, The Griffin, The Corner Bar, Barley Mash, Gingers night club, Pacific Beach bar and Grill and various Weddings, Life Celebrations, Birthdays, Private events, and art shows.
Testimonials
"Matt was AWESOME. He is courteous, professional and extremely talented. Would certainly recommend and use him in the future!"
Brad A., Events LLC
June 2021
"That was great! Perfect for Barley's brunch."
Aron L., Barleymash
July 2019
Aron L., Waken Bacon Brunch
June 2019
"Everything was great – thanks!!"
Emily G., PennWell Corporation
February 2015
"Matt Sandoval was amazing…the perfect fit for our party. Felt like we had an A-list act at our intimate birthday party!! AWESOME!!"
Christina G., Private Party Client
September 2013