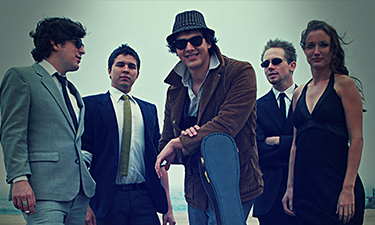 The Heist Classic Rock Cover Band began performing in 2007 with a goal to reproduce the musical energy and awe of a timeless era. Many major publications and media outlets, including the Los Angeles Times, KTLA's Morning News (Los Angeles channel 5 morning news show), CBS Los Angeles, and KLOS 95.5 fm (Los Angeles FM classic rock radio) have noted that The Heist have been able to seamlessly capture the essence of classic rock through superior musicianship, youthful energy, and attention to detail – truly separating The Heist from other cover bands. Brilliant three, four, and five part vocal harmonies and creative instrumentation and song arrangements, teamed with inspired stage presentation combine for a must-see, must-hear attraction.
In addition to their musicianship, The Heist also pride themselves on being very versatile. The Heist has performed to crowds of 4,000+ but has also been featured at art galleries and small gatherings playing acoustic sets for a more intimate experience. CBS Local called The Heist, "one of Los Angeles's best cover bands." The Los Angeles Times has said "The Heist are a 'must see' act if you can catch them in public and a 'must book' act if you've got a hankering for classic rock at your next event."
If 60's and 70's classic rock hits are what you're looking for, look no further than The Heist Classic Rock Cover Band – the Southland's very best in classic rock covers.
Testimonials
"The band was amazing! The few of us that actually got up to dance the entire evening had such a great experience from start to finish, thank you so much!"
Laura F., Clarkston Consulting
March 2022
"The Heist were fantastic, super professional, and great to work with. My client wanted to switch up their location and they were more then accommodating. Please thank them again for me and I'll be happy to recommend them again to my other clients."
Christina G., Hard Rock Hotel
October 2016