As you know, it can sometimes be difficult coming up with a good set of songs for your wedding reception. You might be asking yourselves, "What can we do to get people on the dance floor?" With new hits coming out nonstop, it might be hard narrowing your list down. Don't worry! We've compiled a list of 2017 hit songs to get your wedding party started. Read along and see if any of these new tunes could be a good starting point when putting together your own wedding playlist!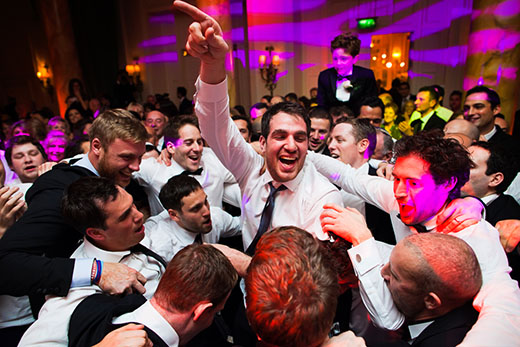 Bruno Mars "24K Magic"

To be fair, this song did come out in 2016, but its popularity over the past few months was more than enough for this hit to make it on our list. Once the track hits the speakers, you can guarantee people will flock to the dance floor to get down!
Ed Sheeran "Shape Of You"

I'm sure everyone is familiar with Ed Sheeran's instant wedding hit "Thinking Out Loud," but his first single of 2017 is already creating a buzz. Just ask the DJ to play this song and see what happens. You can thank us later.
The Chainsmokers & Coldplay " Something Just Like This"

The Chainsmokers have been on a roll lately and this hot new track featuring Coldplay will surely get you and your guests pumped up and wanting to dance!
The Weeknd "I Feel It Coming" featuring Daft Punk

With the help of Daft Punk, this tune from The Weeknd definitely has some Michael Jackson vibes written all over it. Everyone will definitely feel the urge to dance as soon as this song comes on.
Calvin Harris "Slide" featuring Frank Ocean & Migos

Get your guests to "Slide" on over to the dance floor by playing this new 2017 hit song from Calvin Harris and company! Frank Ocean's subtle vocals and a verse from today's hottest rap group Migos will definitely get the wedding party started!
With this list of 2017 hit songs to get your wedding party started, you are in a good starting spot for creating your reception music playlist. If you're in need of more suggestions, you can check out Spotify's Top 50 Wedding Reception Songs which covers all generational hits so you can put together a well-rounded reception music playlist for all of your guests.