Planning your wedding day can be stressful enough; you're going through your checklist, leading up to the big day and next up is your registry. No need to stress! We have put together some tips and tricks for creating a wedding registry that can help the process run more smoothly. You'll be ready to go in no time!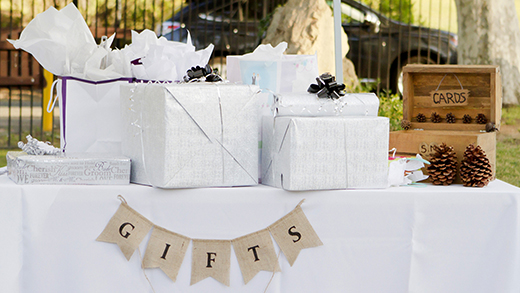 Step 1: Brainstorm ideas for your registry
Price Points
Make sure to register items at different price points to be considerate to your guests. Mom and Dad will probably prefer to purchase an expensive item rather than buying smaller items. On the other hand, don't allow your guests to struggle to find a gift that's within their budget. Include gift options at many price points and update the list as people contribute to your new home!
Gratitude
Be proactive in thanking your guests and letting them know when their gifts have arrived. Follow up a few times and express your gratitude.
Step 2: Make your list
Start Choosing Your Registry Item List
Go through each room and make a detailed list of what you need. Try to think outside of the box and get some ideas from your friends' homes. You might come across things you may have never thought of before!
Decide Between Online and In-Store
The benefits of going into a store are that you can get a first-hand feel for the items you want. Feeling the fabrics of the sheets and pillows and seeing things in person will give you a better sense of what it will look like in your future home. Online shopping is easier and often times is the more organized route because you can categorize everything you may want and need. The decision is in your hands, but we suggest finding items online and then going into the store to see the actual items first-hand.
Step 3: Select the specific items you want from the store
Plan a day to go shopping and start checking off items one after the other on your list. Have fun with your fiancé as you run through the aisles with your scanner gun! Your guests will love to be able to contribute something to you that you will use for a lifetime. It makes them feel more a part of your new life together. In that regard, make sure to defer from frivolous spending and focus on the necessities. Congratulations and good luck the rest of the way!
For a list of stores, you can use for your registry, check out the Top 27 Places to Register on Brides.com. We hope these tips and tricks for creating a wedding registry help you during the planning process.