As the groom, you play just as important of a role in the wedding planning as the bride. Certain tasks are traditionally reserved for the bride, some for the groom, and some for trusted friends and family that are helping out. Check out this groom's guide to wedding planning if you are a groom and want to make sure you are doing your part in the planning process.
Just follow these steps and you should be ready in no time for your special day!
The Groomsmen
We don't need to tell you who to choose as your groomsmen. Everyone from a brother to a lifelong friend is all fair game. Just make sure you can trust them to handle certain responsibilities and help you out along the way.
Music
With a million details running through your fiancé's head, take on the task of finding music entertainment for the big day. Start thinking about if you want a DJ, a live band, or if you want to do some karaoke at your wedding! Think back to those first date questions: Who's her favorite singer? Who's her favorite band? What are her favorite songs or genres? Be thoughtful when it comes to music because this will set the mood for your first dance, and will potentially be the song you remember for every dance thereafter.
The Wedding Rings
At this point, you should have a pretty good idea of what her ring size is. If not there are plenty of creative ways to find out. Try asking her mother or close girlfriends. Once you have that, the rest is easy. Choose a set that you will both cherish for the rest of your lives together.
Your Vows
The best thing to do when writing your vows is to make them genuine and straight from the heart. No one knows your fiancé better than you do so be natural. A bit of humor is always a good touch but keep it simple, nice and sweet and you can't go wrong.
The Honeymoon
Ask yourself, where have you two always wanted to go? More importantly, where does SHE want to go? You can never go wrong with a relaxing beach paradise vacation coupled with adventurous activities that will be a memory that both of you can cherish forever.
Tuxedos
There's nothing like a perfectly fitting tuxedo. Make sure you get you and your groomsmen together and schedule your fittings well ahead of time. All eyes will be on your bride so it's important that you look dapper enough to compliment her beauty on the big day. At the same time, don't outshine her. Your job is to make sure you both look good!
Out-Of-Towners
Plan out which out of town family and friends will be attending your big day, and reach out to local hotels to discuss room blocks. Make sure they will be comfortable during their stay and not holed up in some motel.
Every man about to get married can use a groom's guide to wedding planning. We hope these suggestions and tips help make the planning process for you and your future wife a little easier. You should sit down with your fiancé and delegate tasks, put together a timeline and make sure to communicate effectively on progress so there are no last-minute stresses or problems.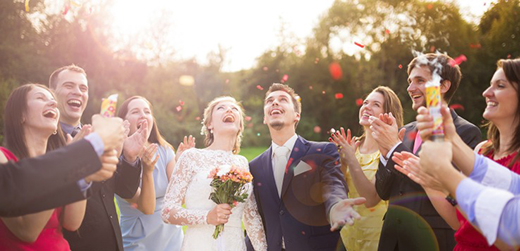 Looking for more advice? Check out Inside Weddings' article with advice from grooms themselves. Best of luck and happy planning!