You've walked down the aisle, said "I do," and spent some quality time with loved ones in the beginning of your reception — now it's time to cut the cake. Everyone will be watching, and cake-cutting with your new life partner is a timeless ceremony. For such a special moment, the perfect song is crucial.
To determine the best song for you and your new spouse, consider the relationship between you two: are you both hopeless romantics? Do you like to make the most fun out of any situation? Whether you want this moment to be romantic or silly, here are fun cake cutting songs to remember forever.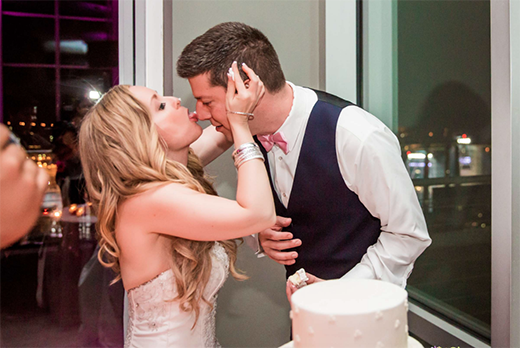 This song is sweet, lighthearted, and appropriately named! Using this number as your cake-cutting song ensures an adorable vibe and the perfect moment for the video cameras — no one can resist the lyric "I just can't believe the loveliness of loving you." For the romantic couple, this song is a perfect fit.
That's apropos. This smash hit from Bruno Mars is meant to be played at every wedding, but making this the anthem for your cake-cutting ceremony will make you and your spouse remember all the reasons why you're cutting your cake together in that moment.
"Better Together" – Jack Johnson
This romantic, acoustic hit makes for a lovely cake-cutting ceremony. Jack Johnson's understated tone and comforting guitar strums create an atmosphere of pure love and warmth.
"Pour Some Sugar On Me" – Def Leppard
This one's for the wild, exciting wedding party. While you may not be able to dance to a rock song to commemorate your marriage, you can definitely get down to this one for your cake-cutting ceremony — just don't get too messy!
This iconic song from Maroon 5 is one of the most popular songs for cake-cutting for a reason. It's fun, poppy, and so irresistibly good. The best part about this song is its inherently fun vibe, but it's also got a romantic touch. For some extra fun, check out the music video where the band crashes as many weddings as possible — you might get some inspiration!
Will you be gazing into your partner's eyes while you cut the cake to a romantic ballad, or are you game to make your spouse messy with a piece of cake to the face? Whatever you choose, each of these songs will do your cake-cutting ceremony justice.
If you are looking for the perfect DJ or musician for your wedding, check out all of our talented artists on our artist page and inquire with us today. Best of luck with the planning!