Get ready to gather up your bridesmaids, sisters, cousins and more — it's time to toss your bouquet. The bouquet toss is longtime wedding tradition that is meant to not only predict who's going to be the next to walk down the aisle, but one that will almost always provoke the rest of the party to dance.
Since all the ladies will be in on the fun, it's necessary to pick a song that'll pump up your girls and get them excited to be part of your wedding tradition. From Beyonce to Queen, these are the best bouquet toss songs for your wedding.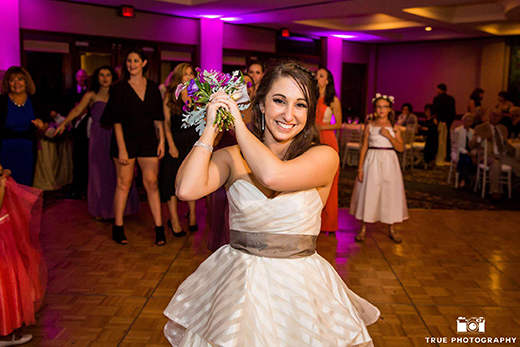 "Girls Just Want to Have Fun" – Cyndi Lauper
This '80s girl power anthem is perfect for the bride who loves the fun, carefree energy crafted by Cyndi Lauper. Best of all, this is a track that will get women of any age on the dance floor ready to catch the bouquet!
"Where Them Girls At" – David Guetta featuring Flo Rida and Nicki Minaj
If you're looking for an insanely energetic, contemporary song for your bouquet toss, look no further than this radio-friendly stomper from David Guetta. The lyrics of the track literally invite the girls to the dance floor — what's not to love?
"It's Raining Men" – The Weather Girls
Okay, this one may be a little silly — but if that's the vibe you're going for, your guests will seriously love it! The lyrical content is so fitting for the occasion and the track itself is a proper throwback to appease guests of all ages.
"Single Ladies (Put a Ring On It)" – Beyoncé
This may be the most popular bouquet toss song of all time, but how can anyone resist? This feel-good showstopper has all the energy you'll need to get all the single ladies on the dance floor.
"Another One Bites the Dust" – Queen
This one is for the rocker chick at heart. Tossing your bouquet to all your girlfriends to this song will not only feel badass, but it'll get your girls in the mood to fight for that bouquet — a hilarious and fun sight to remember!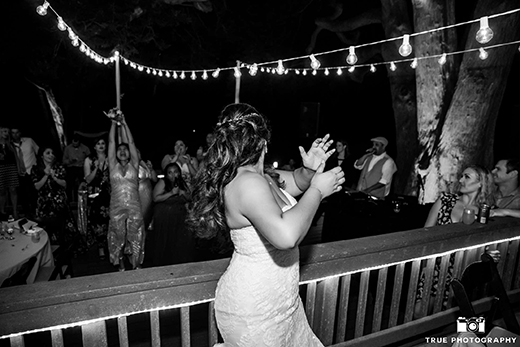 Which of these songs will set the tone for your bouquet toss? Once you pick a song, be sure to let your wedding DJ know in order to create the perfect moment. If you're still looking, we can provide everything from mobile DJs and all kinds of wedding entertainment so check out all of our talented artists on our artist page and inquire with us today!