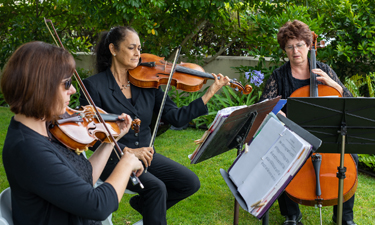 Caprice Strings is a violin group that has been performing for over 25 years. Caprice Strings members have performed at prestigious venues, groups, and events along the West Coast including the Lyric Opera, Orchestra Nova, San Diego Symphony, The Pantages in Los Angeles, San Diego Opera, Starlight Opera-Bolshoi Ballet, Joeffrey Ballet, American Ballet, California Ballet, and the Malashock Dance Company – just to name a few.
Their experience with high-end clientele is why they are consistently called upon to create and set the mood for various events. Their synchronization, professionalism, and skill sets them apart from other violin groups. Because of their crowd-pleasing performances, major hotels and spas have featured them on their recommended vendor lists including the Grand del Mar, US Grant Hotel, Estancia, the Lodge at Torrey Pines, La Valencia, and dozens more. Once you hear Caprice Strings, you will fall for their free-flowing and mesmerizing chords.
Testimonials
"SGM was amazingly easy to work with; maybe the best vendor we worked with leading up to the big day. We had many music options provided to us and we decided to hire Caprice Strings to play our wedding. They absolutely nailed it! We asked for quite a few songs that were not in their song list and for a small fee per song, they learned the songs and played them perfectly; super impressed with them! We would no question recommend SGM and Caprice Strings for any event. All parties were super cool and super professional and made our day perfect!"
Jason D, Groom
September 2023
"Caprice Strings was wonderful!! Their sound and song list was exactly what we were looking for to capture the mood for our garden wedding and cocktail hour. Francesca was incredibly kind and a pleasure to work with. So happy to have them be a part of our big day!"
Molly G., Bride
March 2023
"The event was perfect and wonderful!! We were so pleased with Caprice Strings."
Christine E., Threshold Event Co.
July 2022
I've worked with Sleeping Giant in the past through work so I've known for a while how great they are to work with. They were even better at my wedding! Caprice Strings KILLED IT! 10/10
Ducote C., Groom
October 2021
"You guys were fantastic to work with. Francesca was great!"
Mindi K., Mother of Groom
August 2021
"Thank you so much for CAPRICE STRINGS making my day so magical! The music was so beautiful and was smooth into transitions. I so appreciated Francesca playing a sample over the phone to ease my fear over the song I walked down the aisle to."
Chelsea G., Bride
June 2021
"Thank you so much again for such a creative an classic performance, it made the wedding!"
Mercedes S., Bride
November 2019
"Thank you for all of your help with Harley + Alex's wedding yesterday. They left the night as a very happily married couple and that's all I could have asked for. I hope to work with you again in the near future! :)"
Linnie L., A Hundred Hearts Wedding & Events
October 2019
"Everything went great! The three ladies were wonderful. They played some modern songs along with some regular background music as requested. They were the perfect volume and were very professional. Thank you so much for your assistance and the last minute nature of the request."
Heather H., Industrial Truck Association
September 2019
"Caprice Strings sounded so lovely during the ceremony and all of the guests loved them. They were attentive to the music changes during the processional and made sure to stick around and play until all of the guests had left for cocktail hour which we greatly appreciated."
Jacob T., First Comes Love Weddings and Events
October 2018
"Patrick and I cannot thank you enough for such an amazing and beautiful wedding last weekend…Thank you thank you!! Our guests loved everything and really had a great time. And most importantly – we had an amazing time from start to finish
Trina H., Bride
August 2018