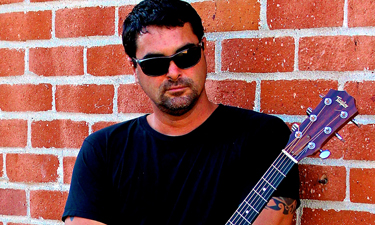 Sam Hosking has been known for his versatile vocal talent from a very early age. Originally from Australia, Sam's love for singing soulful and acoustic based music has given him the opportunity to travel. His experiences in over 30 countries led him to learn the art of the creative process. Sam's focus on singing, has allowed him to become a master in his field learning from an eclectic range of teachers throughout the world.
Sam recalls some of his very first international performances from unique venues like playing on floating restaurants in the old city of Yaffo (Jafa) in Tel Aviv at the age of 19 to venues in Italy, Germany, Holland and then on to larger venues and performances in Brighton and London.
Since coming to the U.S in 1999, Sam has immersed himself in the East Coast music scene. Sam has performed with many cover and original bands as well as many solo performances from NYC to Miami. Recently relocating to San Diego, Sam has dedicated his time in his new home preparing and perfecting his music selections. Part of that process has allowed him to explore the local music scene expanding his paradigm as an artist. Sam enjoys spending his free time teaching guitar to fellow musicians, helping to push their dreams forward.
He believes that music is more than entertainment and can change the mood of any gathering. Therefore his set lists are comprised of a well-blended mix of cover and original songs. Sam takes a unique approach to his covers selection to make each song his own while still remaining loyal to the original integrity of the piece. His range goes well beyond the typical cover artist as he is able to bring to life songs from multiple genres including light rock, country, chart topping hits, and always includes crowd favorites. His knowledge of music theory allows him to quickly and easily identity musical patterns. This gives him a great advantage as Sam is always trying to expand his musical repertoire.
One of Sam's greatest musical influences-Bob Dylan- was once quoted saying, "People seldom do what they believe in. They do what is convenient[…]". This is something that Sam takes into account in his personal life which helps define him as a musician. He looks forward to furthering his goals in his music career while exploring San Diego. Sam Hosking hopes that his new home will bring new experiences, insight, and development so that he can continue to be at his best.
Testimonials
"Thank you all for all of your assistance. They client loved Sam and he was such a nice guy."
Arron R., Hard Rock Hotel San Diego
October 2021
"Sam was the perfect compliment to our beach party! Thank you Sleeping Giant for the perfect recommendation!"
Kelly N., Private Party
January 2021
"Really enjoyed Sam's music. He was very timely and professional. Would highly recommend to others!"
Crystal C., Private Party
August 2020
"Sam was great. Exactly what we needed. Couldn't have been better! Appreciate all your efforts."
Cameron C., Private Party
October 2019