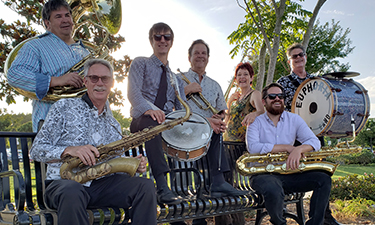 Euphoria Brass Band is a San Diego based musical collective that serves up a contemporary mix of old school New Orleans traditional brass band jazz, funky street beats and new school edginess with a West Coast feeling!
EBB was created in 2011 by two New Orleans transplants, Ron Bocian and David Bandrowski and local jazz radio DJ, Drew Miller. They quickly assembled a top notch, hard-hitting horn section: Steve Ebner (trumpet), April West (trombone), David Jackson (tenor sax), JP Balmat (baritone & alto sax, clarinet) and Wayne Rice (sousaphone). Euphoria Brass Band is proud to have been nominated 5 years in a row for various San Diego Music Awards since their inception in 2011! Embracing the exciting spirit of improvisation with a hard funk edge, Euphoria Brass Band has become known for their incendiary high energy shows…. guaranteed to get a crowd smiling, dancing and having a good time. EBB always leaves 'em wanting more!
In the short time they have been together, EBB has quickly become a Southern California favorite, playing many high profile music venues, festivals, parades, corporate events and weddings.
Upcoming Events
Feb 13
Euphoria Brass Band
Q&A Restaurant and Oyster Bar
Euphoria Brass Band Music
Testimonials
"Euphoria Brass Band was great! Really tied the room together. Please pass on our thanks."
Chase Z., The Tavern
February 2018