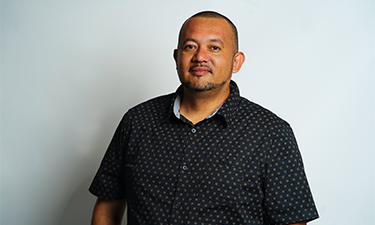 Expect only the best from one of San Diego's most requested DJ / VDJ's. Experience an enlightened journey of visions and sounds from the past to the present and everything in between. DJ Harmz's open format style of DJ performance always brings all crowds to their feet and leaves a lasting impression.
DJ Harmz entered the DJ scene as a house party DJ, and while in college, his dream shifted to become an on-air radio DJ. Working with local radio stations, he was able to secure a spot on the Live Nation Roster as an On Stage & VIP lounge DJ at Sleep Train Amphitheater in Chula Vista CA. Having to DJ every major concert that came to town, DJ Harmz's music category is extensive, from hip hop to rock, country, Latin, and anything in between, Harmz can rock any performance gracefully transitioning through genres. He also has performed various celebrity, corporate, and tradeshow events. His knowledge of music and his ability to manipulate videos, all in one set, keeps him one step ahead of your ordinary DJ. DJ Harmz is known to be able to read all crowds and successfully program any event. His dedication and love for this art form of music and video reflects through his performances.
He always keeps a balance of musical flavor being true to the West Coast, Midwest, and East Coast style. DJ Harmz's mixing ability is top-notch and always transitions seamlessly, keeping the floor moving and people wanting more. His library of music and music videos are up to date and by far can make any music request(s) possible, keeping every guest pleased.
DJ Harmz has also stepped into the Latin market which has also increased his demand for his performance. Through the past years, DJ Harmz also performed at the 2009, 2010, 2015, 2016, 2017 Latin Grammy Awards Official After Party. He is also the DJ for the Latin Film Festival After Parties. His knowledge of all Latin music earned him a top spot in the Latin Dj Scene.
Upcoming Events
Testimonials
"DJ Harmz listened to and implemented everything we discussed at our meeting. We got so many compliments on our music choices, and we even had a friend who is getting married say she wished she had found our DJ because he did such a good job. Thank you for making one of the most important days of our lives so special and seamless!"
Jen D., Bride
November 2023
"I recently hired SGM Events for my wedding and I must say, it was an amazing experience. DJ Harmz was very professional, friendly and entertaining throughout the event. He really knows how to keep the crowd engaged and on the dance floor all night long. The music selection was spot on and he played a great mix of old classics and new hits that everyone enjoyed. The sound quality and lighting were top-notch, and it added an extra level of excitement to the atmosphere. Overall, Sleeping Giant Music exceeded my expectations and I couldn't be happier with the service provided. I would highly recommend this vendor to anyone looking for a great DJ experience. Thank you for an unforgettable night!"
Alicia L., Bride
June 2023
"Hi Team,
I realized I haven't had a chance to THANK YOU all for a wonderful job you did at Selene and Roman's wedding last weekend. It was an honor to work with such amazing vendors and I hope to work with you all again very soon!"
Rachael L., Events Inspired
May 2023
"We booked DJ Harmz for my roaring 20s themed 40th birthday bash and he did not disappoint. He created an amazing playlist going through all our favorites over the decades. He even quickly pivoted by downloading Persian music at the last minute at the request of some of our guests and seamlessly working it into the flow. Guests of all ages enjoyed the evening. He even let our daughter check out his equipment which she loved!"
Guissu B., Private Party
May 2022
"DJ Harmz really made our wedding special and worked around the inclement weather and surprises."
Beverly P., Bride
May 2022
"Carlos did a great job! I was most impressed by the music playing before the ceremony and how well it matched up to the ceremony music I had selected. Everyone had a great time at the reception and despite it being a small wedding, everyone had a blast dancing to every song."
Whitney G, Bride
February 2022
"DJ Harmz was absolutely amazing. The dance floor was packed the entire time and everyone had an absolute blast. His song selections were perfect for our guests— we've already gotten so many compliments about how awesome our DJ was. I would absolutely recommend him to anyone planning a party or wedding. We can't thank him enough!"
Kimberly T, Bride
November 2021