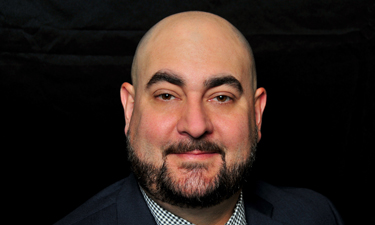 Shaun Blaze is adept at developing dynamic playlists based on client needs and keeping the dance floor going to the end of the party. His passion for DJ'ing is like a soundtrack to his life and he enjoys sharing it with others.
Shaun Blaze has worked weddings and private events at venues across Southern and Northern California including, The Lafayette Hotel (University Heights), Split Rock Ranch (Ramona), Grand Tradition Estates & Gardens (Fallbrook), Project Bar and Grill (Bankers Hill), Club Montage (San Diego), La Mesa Community Center (La Mesa), and Marines Memorial Club (San Francisco).
A proud San Diego native, Shaun Blaze purchased his first set of turntables in 1996 and went on to develop his DJ and MC performance skills and extensive music library at house parties and other social gatherings. With this eclectic music collection and natural ability to read a crowd, Shaun Blaze eventually moved on to DJ'ing and MC'ing larger events including weddings. He strives to cater personally to each client, actualize their vision for the event, and ensure a professional, positive experience that exceeds expectations.
Upcoming Events
Testimonials
"Thank you again, from the bottom of our hearts, for knocking it out of the park yesterday. We had multiple people tell us that our DJ was phenomenal. And you made it such that Mike and I had the dream wedding we'd always hoped for! We can't thank you enough!"
Cindy C., Bride
September 2023
Shaun is the best DJ ever! Everyone kept complimenting how awesome the music was and how fun he was! Thank you again for everything!
Stacey P., Bride
September 2023
"Shaun was great. He had the dance floor popping till closing time. Thanks!"
Matthew W., Groom
August 2023
"DJ Shaun Blaze - THE BEST! First of all, he was SO communicative and easy to work with. By far, the thing we had to stress about the least throughout the whole wedding reception process. Music was our #1 priority for our event, and DJ Shaun Blaze delivered. Before the event, we had multiple Zoom meetings discussing our wants/needs, music tastes, and his style. He was timely, communicative, and extremely quick to respond to any questions we had. The day of, he made everything go so smoothly. He helped all the events of the evening go in order with ease by announcing all the toasts, dinner, etc. Then, when it came to dancing, he made sure nobody left the dance floor! The first thing after the wedding people came up to us and said, "Whoa, that DJ was awesome!!" Everyone enjoyed him. Thanks so so much again!"
Molly R., Bride
August 2023
"Shaun was wonderful! He had our guests dancing until the very end of the night. Five stars!"
Katie R., Bride
August 2023
"DJ Shaun Blaze was amazing! He made sure to play all of our favorite songs and came prepared for the whole day. Highly recommend him if you are looking for a fantastic wedding DJ!"
Paige N., Bride
August 2023
"We wanted to extend our heartfelt gratitude for the exceptional experience you and your team gave us leading up to and on our wedding day! Please give our regards to DJ Shaun - he was absolutely incredible in setting up the mood and getting our guests on the dance floor!
Once again, thank you from the bottom of our hearts. Working with DJ Shaun was an absolute pleasure and we couldn't have asked for a more delightful experience!"
Alina I., Bride
August 2023
"Amazing experience. Thanks for being patient with us. Everyone loved the DJ!"
Nick B., Groom
June 2023
"SGM Events was amazing! We had DJ Shaun Blaze at our wedding and couldn't have asked for a better fit. He listened to our needs, read the room super well, and was super communicative and helpful. We had such an easy experience from the moment we chose them all the way through the event, and our guests had the greatest time dancing the night away!"
Carly N., Bride
June 2023
"Hey Shaun!
We just wanted to send you a quick email to say thank you so much for making our day so special!
You really read the room and made it so fun for everyone! We really appreciated the fact that so many people told us how much they loved the music choices!
Thank you again, and please feel free to reach out if you need anything from us!"
Michael & Morgan L., Bride & Groom
June 2023
"Shaun was awesome and we are so glad he was a part of our day! Thank you!!"
Carly N., Bride
June 2023
"DJ Shaun Blaze was such a pleasure to work with, starting well before our event. He was consistently considerate and helpful in organizing our music with us leading up to our wedding. The day of, he did an incredible job with his set and getting everyone excited to dance and have a good time. Many guests went out of their way to express how amazing the music and the DJ were. We can't thank DJ Shaun Blaze enough for helping us celebrate our wedding day in such an incredible fashion!"
Blair W., Bride
May 2023
"I just wanted to say THANK YOU SO MUCH! We had the best time and everyone has been telling us what an incredible job Shaun did! It was the best party ever and we loved working with you guys! Please tell Shaun he's the best and I can't recommend him enough!!"
Miranda H., Bride
February 2023
"We put zero effort into the reception and handed you the keys and you killed it! We knew it was going to be an older crowd that was going to be disinterested in dancing but you really did an amazing job energy wise and kept the fun going! Tracy and I were so very pleased with the night and you were such a big part of it all!"
Brian & Tracy, Bride & Groom
February 2023
"Thank you for everything on Friday. You kept our party going throughout the night. We got nothing but compliments about the music and about you. You helped make our day the most memorable. It was everything that we wanted and could have hoped for.
Again, thank you so much for everything! It was the best night."
Mathew A., Groom
December 2022
"Tyler and I wanted to take a moment to say THANK YOU SO MUCH for helping us put together what ended up being the most beautiful, memorable, magical day. We received so many compliments on the event and venue. We know it required a lot of work and coordination on your part, so thank you from the bottom of our hearts for all you did to make it happen :)"
Lisa A., Bride
October 2022
"From our first email correspondence to our zoom consultation to our event, DJ Shaun Blaze was soo easy to work with! He took to heart our needs/wants for our wedding, put us right as ease as we discussed our lengthy list of no-plays and just overall made us feel very comfortable. He curated the perfect playlist for our wedding and he knew exactly what song to play next to keep the dance floor full all night! We would highly recommend DJ Shaun Blaze for your next event, party, wedding!"
Alison B., Bride
October 2022
"We were super happy to have met Shaun! He did such an amazing job being the DJ at our wedding. I would highly recommend him to anyone! He listened to what we wanted as well as gave an easy to fill out form out so he knew our music preferences. Guests of our wedding said he was great as well!!
Thank you!!"
Melanie M., Bride
October 2022
"Shaun was great! He stepped in at the last minute for Carlos and we had an amazing experience! They definitely did a great handoff and he performed above and beyond our expectations!"
Nicole B., Bride
August 2022
"We found SGM through our awesome catering company, The Abbey. They were incredibly responsive and accommodating throughout the process. From the planning meetings to the day of, we were in incredibly good hands. DJ Shaun Blaze was amazing and our dance floor was packed from start to finish."
Jen T., Bride
July 2022
"Thank you for such an amazing night. Shaun's talent made it so great and it was everything we wanted."
Joshua & Luisa, Bride & Groom
June 2022
"THE BEST. DJ Shaun Blaze was amazing. He helped make the day so smooth. Honestly wouldn't have been able to do it without him, HE WAS So helpful and knowledgeable. Honestly the best all around."
Cori C,. Bride
June 2022
"Thank you again for the incredible job you did on Friday. Everyone couldn't stop talking about how great of a job you did/how much fun they had dancing.
You played a key role in our special day and we are very grateful for that."
Dan C, Groom
May 2022
"My friends and family still talk about the dance floor from the wedding. You even had my grandma dancing again, which was awesome to see."
Jasmine L, Bride
February 2022
"We've got sooo many compliments on your wonderful work at our wedding!!! Everyone had a BLAST on the dance floor!!!!!! THANK YOUUU SHAUN, we appreciate you!!!
Megan H, Bride
December 2021
"I just wanted to say thank you so much to Shaun for putting on an amazing party. Everyone had the best time and the music was spot on! Thank you so much for being patient with us that night too! He was so amazing to work with and I just had the greatest night!"
Christina N., Bride
October 2021
"Shaun, you received SO MANY compliments from our friends and family (SD & out of towners). You set the mood right and read the crowd right from pre-ceremony to closing time. It really got us!!!"
Kat H., Bride
September 2021
"Thank you so much! Shaun did an amazing job. He was so flexible with the indoor/outdoor setup, we had such a blast and our guests did too."
Katherine S., Bride
September 2021
"I know everyone had a good time dancing the night away to Shaun's music selections. Music & dancing are good for the soul & we were all feeling good at the end of the night."
Denis N., Groom
June 2021
"SGM was incredibly professional, flexible, and fair, given the constraints of Covid-19 and the last minute inability to have music at a 'reception' (we were allowed dinner service, without music). Shawn Blaze helped us organize and facilitate us playing our music even though he could not be there. We highly recommend SGM and Shawn Blaze and hope that we have occasion to hire them in the future."
Amie F., Bride
January 2021
"We had an amazing experience and would highly recommend."
Jeffrey L., Keller Wiliams
December 2019
"Thank you for all of your help with Harley + Alex's wedding yesterday. They left the night as a very happily married couple and that's all I could have asked for. I hope to work with you again in the near future! :)"
Linnie L., A Hundred Hearts Wedding & Events
October 2019
"Having gotten to interview Shaun directly from the beginning and talk with him made this whole process easy peasy! He very clearly understood our needs and went with the flow even when things in our timeline got delayed and needed to be adjusted. When the dance floor was empty, he switched up the music as discussed and got everyone dancing again.
It was a perfect night!
Thank you!!!"
Harlequin L., Bride
October 2019
"Shaun was absolutely amazing! He played great and really made not only our client happy, but her daughter as well. He did a great job with song selection, mixing and was more than accommodating on the microphone and with requests. He really went above and beyond and we really appreciate it!"
Brandon T., Creative Excellence
September 2019