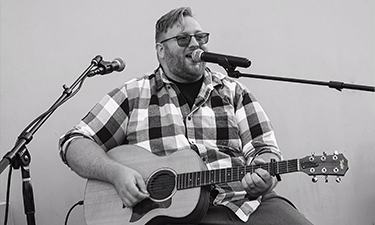 Jason Graham is a singer, and guitarist, and a fresh addition to the San Diego community. Whether it has been on the high seas performing on cruise ships around the world or road-tripping across the country, Jason always brings a fun time and high energy to all of his shows. With a large and ever-growing setlist, Jason has something for everyone, whether it be classic tunes you haven't heard since high school, or the songs topping the charts today.
Jason uses live looping technology to build layers of sound, and bring a full one-man band experience to the table. If you want something a little more low-key, Jason can also strip it down and play a more traditional acoustic vibe. Jason can also offer themed sets, whether it be classic rock, 80's, or even 90's R&B jams to really make the night stand out.
For the past 4 years, Jason has been traveling and performing with Norwegian cruise lines. Playing six shows a week, three to four hours a night he was really able to hone his craft, and master how to work a room. Prior to joining Norwegian, Jason grew up studying music and performing in the Midwest.
Now married, and settled in San Diego, Jason is ready to become a fixture in the community and play some amazing shows.
Upcoming Events
Dec 7
Jason Graham
Hard Rock Hotel (San Diego)
Dec 27
Jason Graham
Hard Rock Hotel (San Diego)
Testimonials
The musicians were amazing! The looping was a great addition and Jason even learned a song for the event!
Emily P., NECA
November 2023
"Jason crushed it! It is always a pleasure having Jason play at our establishment! Cheers!"
Aron L., Barleymash
July 2023
"Jason was INCREDIBLE. Like truly a rock star. Timely, fun, and reliable. Very communicative and responsive. He was the perfect addition to our event and can't wait to use him again if we put another event on."
Olivia P., Bride
November 2021