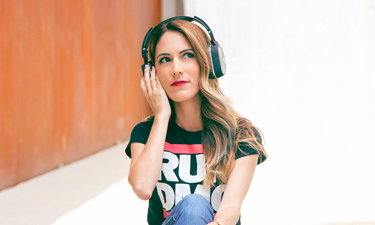 From playing musical instruments to dancing Jazz and Hip Hop, DJ Jenny Pocket, grew up with a passion for music. After college, she took that passion to learn to DJ. In 2007, she got her first taste of mixing with vinyl. By 2009, she was spinning in clubs all over Southern California. In 2011, Jenny Pocket began video mixing, which opened the door to play in Las Vegas clubs, lounges and pool parties.
As someone who enjoys dancing, she takes pride in reading a crowd. For this reason, you may hear a variety of music with in her sets. She mixes all the hits from Hip Hop, Top 40, House, EDM, Old School, Latin, and more.
DJ Jenny Pocket has worked hard to prove herself as more than a "female DJ." In 2013, she entered a DJ competition and became a finalist, holding her own with her male counterparts. Keep your eyes and ears on DJ Jenny Pocket; there is more in the works…
Upcoming Events
Testimonials
"Jenny is always great and understands the venue and clientele to the fullest."
Dakota S., Huntress Steakhouse
February 2023
"So good! Thank you Jenny!!"
Aron L., Barleymash
May 2022
"Great music and very easy to work with. Love her!!"
Nick S., Harrah's Resort
June 2020
"Everything was awesome! The clients LOVED DJ Jenny Pocket. She knows her crowd, and they all had a blast. She was a breeze to work with on-site."
Amy S., Hello! California
January 2020
"I heard DJ Jenny Pocket was a huge hit last at Google though! Looking forward to working with you on something soon!"
Zach J., Hello! California
January 2020
She was awesome and we'd love to have her back! Thank you."
John P., Park and Rec
November 2018
"Both events were fantastic and both Jenny Pocket and Billy absolutely killed it!
Thanks Again!"
Bryan C., Hard Rock Hotel San Diego
May 2018
"DJ Jenny Pocket went above and beyond during her sets at the V Lounge. We had a speaker go out when the band was on the stage. DJ Jenny Pocket was right there to cover the band till our techs got the new speaker installed for the band to go back on stage. Her sets were awesome and kept the party going all night. Great Job!!!"
Ryan A., Viejas Casino
January 2017
Justin L., West Root
October 2016