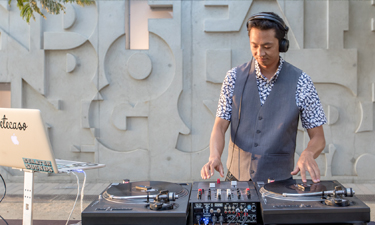 Petecaso is an open format DJ who was born in Taiwan and raised in San Diego. As an upcoming San Diego DJ, he has spent years studying breakthrough DJs such as Q-Bert, Jazzy Jeff, and Mix Master Mike. Artists like these inspired him to work hard on improving his skills. Never skipping any steps, Petecaso  has begun to compile an array of mixing styles and scratch routines.
His performances will put you through a journey and keep you craving for more. Always playing to the crowd, Petecaso will mix up all styles of music in order to create the proper atmosphere for each event. His style of hip hop, house, electronic, and pop music will keep people on their feet all night long.
What makes Pete so special is his ability to adapt and his willingness to learn. After spending years on his own working on his craft, he sought the mentorship of renowned DJ Slowhand. After opening for DJ Slowhand at venues such as SideBar, Vin De Syrah, and West Coast Tavern Petecaso has acquired an array of places in San Diego where he DJ's at.
Upcoming Events
Oct 7
Petecaso
Harrah's Resort Southern California
Oct 14
Petecaso
Harrah's Resort Southern California
Dec 9
Petecaso
Hard Rock Hotel (San Diego)
Testimonials
"Everything went well, super happy with how it all turned out :)"
Brittany B., Clique Hospitality
May 2023
"As the senior class advisor at a local high school, I booked Petecaso and a photobooth for our 2023 Prom. Both were EXCELLENT and SGM was a dream to work with. They helped me select a DJ who would suit our crowd and he took song requests, was flexible throughout the night as we needed to make announcements, and kept the crowd dancing. I recommend this company and can speak to their professionalism, excellent communication, and thoughtful attention to detail."
Chantal C., O'Farrell High School
May 2023
"The event went very well, he did a solid job."
Ryan D., Lucy's Tavern
February 2023
"Pete absolutely crushed it!!! He had the crowd hyped the whole time, knew what songs to play at the right time, was very kind, respectful and was very accommodating. I truly believe he made the night! In addition, he got on the mic and made announcements when needed (or asked by staff). Overall, 11/10! Definitely plan on booking him again!"
Marissa H., West Hills High School
October 2022
"It was great! Pete did a wonderful job and his playlist was great!"
Blanka S., Valhalla High School
October 2021
"All went well with the DJ. Played all the great 70's tunes. We had a blast. Thank you again for the great communication from your company."
Rhonda H., Top Shelf Pull Outs
January 2020
"Pete was awesome! Everyone had a great time. Thanks for everything!"
Kirsten R., Compass Corporate
December 2019
"Pete was very professional and knew how to keep the crowd moving."
Blu M., Client
December 2019
"It was great working with SGM; responses were super quick and Pete did an awesome job at the event. Thanks for everything!"
Kristen R., Compass Corporate
December 2019
"Everything went well at the event and we really enjoyed Peatecaso!"
Aryaman M., University of San Diego
December 2019
"He played this funny sound every time someone won a prize.. it was hilarious! Thanks again!! We will be back next year."
Susan L., Courtyard Marriot
December 2019
"Everything was great. We loved Peter - super accommodating."
Bess M., Courtyard Marriot
December 2019
"Loved working with him, kept a large audience continually entertained would absolutely hire him again! Thank you all so much!"
JD V., RAW
October 2019
"DJ Petecaso was fantastic to work with! Definitely recommend him for future showcases!"
Yvonne M., RAW San Diego
July 2019
"DJ yesterday was great!"
David C., Kona Kai Resort and Spa
July 2019
"Such a fun event ! He did amazing."
Ela M., Beauty Lounge
December 2018
"DJ Petecaso was able to quickly respond to a vacancy and performed with great enthusiasm."
Amanda L., Eastbound Bar & Grill
June 2018
John P., Park & Rec
May 2018