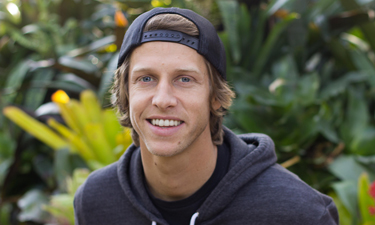 It takes a powerful performer to stand out in music these days, with a surplus of talent and dedication needed as well. There's a need to have focus, yet appeal across genres and age groups. It's a rare combination, but such is the case with gifted musician, Skyler Lutes.
He is a troubadour by definition, using his acoustic guitar as the foundation for music that takes in rock and reggae with a decidedly surf or beach vibe. However, there is much more to his sound. He is a multi-faceted performer whose music will bring a smile, whether you catch a solo performance or a full band set.
Lutes is a multi-instrumentalist, who plays drums, bass, keys and guitar, and is also heavily involved in production work, "but I really enjoy singing the most," he said, "as it has the most emotion involved," In addition to his solo career, he's also been involved in several notable bands over the years, including Hawaiian group Makua Rothman Band, Riverside-based indie rockers Everything Said, Aquile, from TV's "The Voice," and multiple San Diego Music Awards nominees the Defamation League.
Now he's focused on his own music, with the recently released album, After The Rain, building on his first two releases: the all acoustic, One Thousand Hours EP (2013) and a self-titled album released the following year.
A native of San Diego, Lutes grew up in the surf scene of Southern California, honing his craft on the live circuit, touring throughout the U.S. as well as Canada and Argentina. He's at home at gigs ranging from intimate showrooms to outdoor festivals at which Lutes has shared the stage with the likes of Switchfoot, Pepper, Through The Roots, Barrington Levy, Mickey Avalon, and many more.
It's all the culmination of a lifelong dream to have a life in music. He has been performing for over a decade. "I started my first band in seventh grade," he said. "As kids, my friends and I would surf all day then play music into the night. I feel surfing and living in San Diego's Ocean Beach neighborhood is a huge part of why my music sounds the way it does."
Upcoming plans include his first tour of England this fall, opening for Falling Doves, as well as a trip to Costa Rica for songwriting inspiration. "Between the travel, the chance to create and meeting new people, music is the best choice I could have made with my life, "Lutes said. "Things have been good, but this is the year that things go to the next level.
One listen to After the Rain, and you'll agree, Skyler Lutes is well on his way.
Upcoming Events
Dec 8
Skyler Lutes
Hard Rock Hotel (San Diego)
Testimonials
"Skyler was excellent and would highly recommend him to anyone who asks me in the future. He was very competent, professional, and very kind. Multiple people after the event came up to him personally and boasted about how great he played. Highly recommend and was very happy with Skyler."
Tyler H., US Mayors
September 2023
"It is always a pleasure to have Skyler Lutes at our establishment!"
Aron L., Barleymash
July 2023
"The music provided was perfect for the event. The band was friendly and courteous. We would love to have them come back again. Thanks!"
Margot S., Fairbanks Ranch Association
July 2023
"Everything went great! Our guests loved Skyler! Thank you so much for all your help."
Cindy B., HEICO
November 2022
"Excellent would love to have him again!"
Krista B., The Tavern
July 2022
"Skyler did great, it was everything we hoped for! He's very talented and we were so excited to have him be a part of our special day! Everything ran smoothly with him working with our DJ who was also playing some of our ceremony songs. Thank you so much for working with us and being a part of our special day!"
Alexis B., Bride
May 2022
"We had Skyler play on Valentine's Day and it was very much noticed and appreciated by our guests!"
Chris P., Hotel Del Coronado
February 2020
"Thank you so much! Skyler was so great!"
Ann-Dee W., Bird's Surf Shed
July 2019
"Oh my gosh, having Skyler Lutes at my wedding was literally one of the highlights for me! Everyone enjoyed him sing and he made our first dance that much more romantic! He did such an awesome job and I'm just bummed I don't have any other events I can hire him for! Couldn't say more nice things about him and his performance."
Angie D., Bride
October 2018