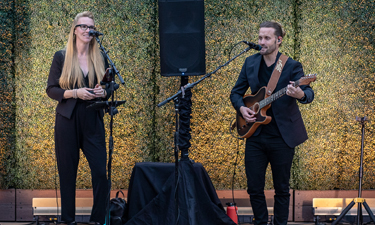 The Heart is an uplifting Acoustic Duo. Their Genre extends from high energy, feel good Top 40, Classic to Modern Rock, Country, Indie, Reggae and Folk. They've been categorized with bands such as: Ed Sheeran, Mumford & Sons, The Lumineers & Imagine Dragons. They'll keep you smiling, dancing & singing along to their heart moving song renditions.
Our Duo consists of Dale Peters who sings Lead Vocals, plays acoustic Guitar using various effect pedals and loops, simulating electric guitar, bass guitar, synthesizer & looped percussion; thus simulating the sound of a full band. Dale is accompanied by Cindy Peters on Lead Vocals as well as harmonies and Hand Percussion, who also doubles as our Sound Engineer.
We can provide anything from high energy crowd moving music, such as: Castle on the Hill and Shape of You by Ed Sheeran, Radioactive & It's Time by Imagine Dragons, Mr. Brightside & All These Things I've Done by The Killers, Santeria & Badfish by Sublime, Boys 'Round here by Blake Shelton… to background, easy listening music like: Harvest Moon by Neil Young, Barcelona & Leaving it up to You by George Ezra, Home by Phillip Phillips, Redemption Song by Bob Marley and Skinny Love by Bon Iver.
We are accustomed to playing various environments from rowdy, high energy bars, to Hotel lounges, Country Clubs, weddings, corporate events & parties in your home. We can provide a solo, duo or full band, depending on what your event calls for. We are flexible in accommodating your needs to create your perfect event!
Testimonials
"The Heart were phenomenal! Rave reviews from so many people at the party. Everyone was wanting them to play their own parties. You almost couldn't even tell they were live because they sounded so perfect you would have thought it was pre-recorded. We LOVED The Heart!"
Lori O., Vario Productions
February 2020