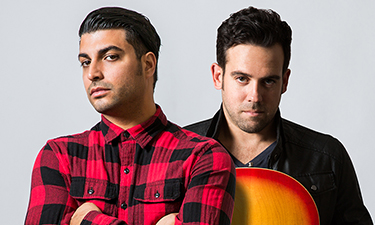 The Who and Paulo da Rosa show is an experience unlike any other. This unique duo consists of Paulo's live electric guitar riffs blended simultaneously with DJ Who's hard beats while both artists move from song to song, genre to genre, seamlessly. From nightclubs to festivals to casinos, this duo has taken the nation by storm. Take your event to the next level by giving them a performance unlike anything they have ever experienced with the Who and Paulo da Rosa show.
Venues & Companies that Who and Paulo da Rosa have worked with: The Catamaran Resort Hotel, Banff Springs Hotel (Canada), Terrance Resort, Stingaree, Vavi Sports, Fluxx, The Cosmopolitan at Las Vegas, ShowTec Inc., The Joint at Las Vegas, Scotch Inc., Foster Entertainment, Qualcomm, and Noble Solutions.
Who and Paulo Da Rosa Music
Testimonials
"Paulo De Rosa did great on the guitar as always!"
Aron L., Barleymash
February 2019
"Everyone loved Who and Paulo De Rosa's performance. Thank you!"
David P., Pacific Magazine
June 2016
"I wanted to send out a HUGE thank you for being part of our 5 year anniversary! I cannot tell you enough how happy everyone was with all of the performances and entertainment this year. You are all officially part of the Spiegelworld family now and hope we'll find time to play together again soon. For those of you who were part of group acts, please pass this on to everyone who participated."
Lisa G., Speigalworld
April 2016
"Rico, Mike Czech, and Who and Paulo da Rosa were all great. They were professional and easy to work with."
Martin D., Allied PRA
September 2014
"Everything for the Summer Solstice event turned out excellent!"
Alyson B., Pacific Magazine
June 2014
"Best night of our lives thanks to these guys! Everyone had so much fun and everything was perfect I could not be more grateful, thank you!!!!"
Chris O., Groom
March 2014
"Once again, you absolutely delivered a wonderful night of great music and entertainment."
Lisa G., Spiegleworld
April 2013