Convincing your guests to hit the dance floor at your wedding can sometimes be a struggle — due to the wide age range of your guests, they'll likely have wildly different tastes in music. It's easy to look back at classic songs to entertain parents, grandparents, and more, but what about guests interested in the chart-topping hits of 2017? We've already provided some suggestions like best bouquet toss songs, songs for your summer wedding and first dance songs, but now that the 2017 wedding season is starting to wind down, here's a list of this year's top dance floor hits for your wedding to get your guests up out of their seats and dancing.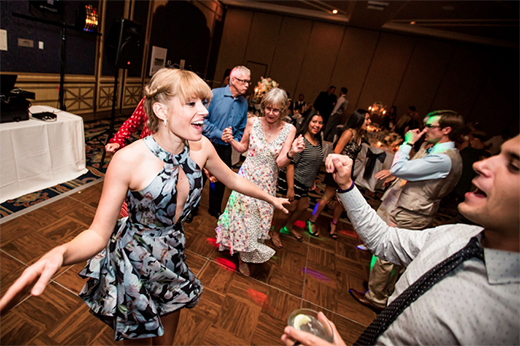 Calvin Harris – "Slide" feat. Frank Ocean & Migos
This feel-good anthem blends EDM and hip hop to create a fun vibe for your wedding guests to dance to. It's wonderfully upbeat, but relaxed enough to maintain a comfortable atmosphere for your guests to socialize on the dance floor.
This sweet song has dominated the charts throughout the entire year, and there's definitely a reason why. "Shape Of You" emits a subtle kind of mood that's capable of bringing the couples together for a dance at your wedding.
Luis Fonsi & Daddy Yankee – "Despacito" feat. Justin Bieber
There's no way your guests haven't heard this radio-friendly hit some time or another. Justin Bieber is a familiar voice for guests of all ages at your wedding, and the heavily cultural, bilingual elements in this song prove to create a fun dance floor experience.
Demi Lovato – "Sorry Not Sorry"
This edgy pop song is for the ladies on the dance floor. Demi Lovato's powerful vocals paired with the track's easily-danceable vibe will urge you and your girl friends to sing your hearts out.
Maroon 5 & SZA – "What Lovers Do"
This lovely collaboration features the timeless voice of Adam Levine from Maroon 5 and the up-and-coming artist SZA. Since it's been hovering on the charts for a few weeks, it's a fine song choice for your trendsetter friends to grab their date and head to the dance floor.
Post Malone & 21 Savage – "Rockstar"
Alright… you might want the censored version of this track for your wedding due to its graphic language — but it's guaranteed to be an instant hit for your friends. This song has claimed the number one spot on all the music charts for weeks since it's so catchy and low-key.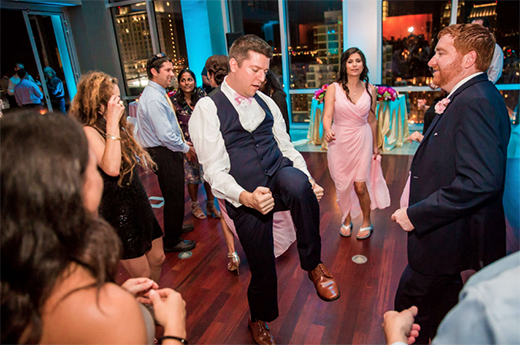 Which of these tracks will you use to bring your trend-savvy friends to the dance floor on your special day? Find out and let your wedding DJ know in order to create the best experience for your guests. Still looking for a DJ? Qe can provide everything from mobile DJs and all kinds of wedding entertainment. Check out our San Diego Wedding DJs and inquire with us today!