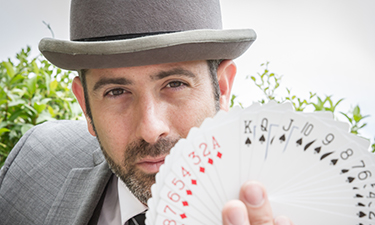 Ben Silver is one of the premier magicians in California and the top choice for corporate entertainment all over America. Ben Silver's dry humor, quick wit and nonchalant style of magic have made him a crowd favorite. Ben Silver is the world's ONLY Magician & Certified Sommelier, a combination that brings luxury entertainment to a whole new level. With his magical prowess and knowledge of wine, spirits, and hospitality Ben has been entertaining corporate and private groups alike across the country for nearly a decade. Whether it be close-up sleight of hand during cocktail hour, a wine and magic dinner for clients and partners, or a grand stage show for hundreds of treasured guests, Ben Silver is sure to leave them with a memorable extraordinary experience that will last a lifetime.
Ben frequently hosts and performs at the World-Famous Magic Castle in Hollywood and has performed for many top corporations and such as NBC/Universal, Capital One, Dow Chemical, The San Diego Zoo, Healthcare Trust of America, Hyatt Luxury Brands, Cisco and Disney to name a few. Ben Silver makes a great addition to corporate events, holiday parties, trade shows, client appreciations, dinner parties, wine dinners, and all types of private events where joy, wonder, and lasting memories are desired. Whether it's modern day card tricks, awe-inspiring mentalism, or signature wine illusions, Ben Silver will surely leave you mystified and satisfied.
Testimonials
"Ben was amazing as always!! Thank you!!"
Diane D., GHS Law
December 2019
"It all went great! Your talent are all great to work with. Everyone was professional and low maintenance for us!"
Brian M., PRA Events
July 2019
"Everything was great! Thank you very much"
Hannah T., Gray Dawes Group
May 2018
"Ben Silver is AMAZING and he completely blew everyone away with his magic!!! Why is he not headlining a show in Las Vegas?!?!"
Diane Davies., GHSB Law
November 2017
"Ben Silver was great. I was busy managing other logistics, but was able to see him work the room from group to group. Our customers seemed to really enjoy themselves and were amazed by the tricks he performed. I had to step out of the event to deal with an issue and caught Ben just before he left. Even though he was packed up, he offered to perform a trick for me as I didn't get the chance to see any of it due to my responsibilities. I would definitely recommend SGM and use them again for future events."
Carrie H., Clevest
February 2017
"Ben Silver was a big hit. Will definitely have him back next year."
Darrin S., Scherago International
January 2017
"Truly enjoy working with the Sleeping Giant team! Wanted to book a fun, unique type of entertainment for a corporate intimate dinner. We hired Ben Silver who was our sommelier then at the end of the evening closed with 15 minutes of magic. It was one of the coolest, most memorable experiences. Very unexpected. Ben is a true professional. Very polished, engaging and created a genuine experience which really could not be duplicated based on his talent. Our clients, this morning were still talking about the amazing experience Ben delivered. I can not wait to book Ben again for another event! He is AMAZING!"
Aileen B., Town & Country Resort and Convention Center
December 2016
"Ben Silver was a huge hit – everyone was very impressed. We will certainly consider him again in the future. Thank you!"
Maria C., Rancho Costal Humane Society
October 2016
"Everything was great, Ben Silver was fantastic. Thanks for everything!"
James A., RSI Roofing & Solar
August 2016
"Ben Silver was just as expected, amazing. My guys and gals are hard to impress and believe me, they were impressed."
Al S., Old Surety Life Insurance
May 2016
"Ben Silver was AWESOME!!!!!!!! One of our friends at our party wants to hire Ben for a corporate event for his pharmaceutical company later this year. Everyone was so impressed with Ben's skill."
Rebecca O., Private Party Client
April 2016
"Thank you for reaching out to follow up on Ben Silver's performance at Meze on Sunday 4/10. He was wonderful as always, clients were very pleased."
Jamie K., Arrangements Unlimited
April 2016
"Dean and his wife loved Ben Silver's show! Dean said it was perfect and the guests were amazed with all of Ben's tricks. Thank you so much."
Alane D., Private Party
April 2016
"Over the top!! Ben Silver was UNBELIEVABLE!!! Thanks….he made our event extra special!!"
Mark T., S&S Flavors
March 2016
"The client was very happy with Ben Silver! Thanks so much for all of the help!"
Jasmine E., G7 Marketing
March 2016
"Ben Silver was amazing. People are still talking about him days later. He's probably the best illusionist I've seen. What was the most amusing, was the crowd he was playing to were mostly scientists. The fact that they could not sort out how he was able to do the tricks he performed, made for fantastic entertainment. I would hire him again in a heart beat. He brought the crowd together, was professional, and became a great topic of conversation. Thank you!"
Kendall M., Wellspring BioScience
December 2015
"Ben Silver was fantastic. He was professional and did a great job with his close-up magic and his show as well. Great feedback from the crowd. Everyone was very pleased. The children absolutely went nuts for him. Ben thank you for a wonderful and memorable night."
George S., St. Nicholas
December 2015
"Magician Ben Silver was excellent. He arrived on time and conducted himself in a professional and courteous manner. He was the hit of the night! Everyone was blown away by his tricks and he made sure every person in the event got the chance to see him perform."
Allen B., GHSB Law
December 2015
"Ben Silver did a great job. Everyone liked him. He is very professional."
Kenneth G., Private Party Client
August 2015
"Ben Silver was great….he's really talented!"
Cindy P., ACCESS Destination Services
August 2015
"Went well, thanks! Ben Silver is a pleasure to work with."
Nick D., Parq
June 2015
"Thank you so much! Your DJs and Ben Silver were great! We had a lot of fun and the music they played was perfect. We loved Ben too! A very nice touch, thanks for thinking of it!"
Aimee G., New Belgium
June 2015
"I was very happy with how each party went. Well done, I look forward to working with you again soon. Thank you for everything. Each party was a total success in every way!"
Kelly P., New Belgium
June 2015
"I am thrilled to have found this company. The mentalist, Ben Silver, was amazing, and turned a great event into an outstanding event. SGM Events and Freddie made this an easy and pleasant experience. I would recommend this company to any event planner."
Tina S., Rafter, Inc.
February 2015
"Ben Silver was amazing! Thank you for suggesting we add him to our talent for the evening."
Michelle M., Entrepreneurs Organization
December 2014
"The magician for Binding Site was AMAZING!!!!!!! I will definitely refer him again. My clients loved him and did not want to end the cocktail hour and start their awards, they wanted him to perform all night."
Julie L., Omni Hotel
November 2014
"I would definitely use your service again!"
Lisa M., The Binding Site
November 2014