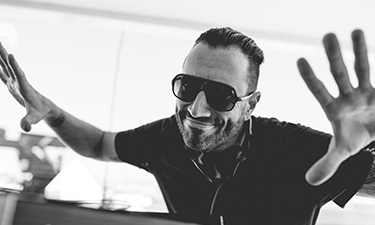 Erik Fish, aka DJ FishFonics, showcases his talent for DJing by blending his multigenre love of music to create a DJ style all his own.
Based out of beautiful San Diego, California, FishFonics has proven his ability to keep a dance floor moving all night long. His seamless mixes and talent for continually surprising any crowd is a testament to his familiarity with and comfort behind the turntables.
FishFonics' dedication to the art itself, not to mention his focus while DJing, has made him a highly sought-after DJ, entertaining crowds from the club, pool parties, and concerts to corporate, private and charity events everywhere from Toronto, Canada to Cancun, Mexico and Las Vegas to Maui.
With an "open format" style spinning everything from hip hop, rock, 80's, 90's, EDM, house and Motown, to roaring 20's and disco parties, FishFonics has an uncanny ability to read the crowd and keep the party alive. Fans are always eager to see what he'll do next.
An evening with FishFonics behind the decks is a dance experience unlike any other, and will leave you longing to see him spin again and again… always keeping the party in full swing as he's done from day one.
Some career highlights include DJing Red Bull's "No Limits" event on New Years Eve 2011 which aired on ESPN, being one of five DJs to compete in the 2013 Red Bull Thre3style DJ Battle, being the official DJ for the L'Auberge Hotel's Del Mar Race Track Opening Day Afterparty, as well as continuously being booked for Monster Bash San Diego's Halloween Block Party.
Venues and Clients FishFonics has worked with include: Red Bull, Rip Curl, Teva, Westfield, No Fear, Svedka Vodka, Skyy Vodka, Jagermeister, TS Restaurants, YMCA, Surfing Magazine, Locale Magazine, Pacific Magazine, Yogalux, UpWind Inc, Vavi, W Hotels, Hard Rock Hotels, L'Auberge Hotel, Belly Up Tavern, La Costa Resort, Oysterfest, Pacific Beach Fest, Andaz Hotel, L'Anza Healing Hair Care, Riverwalk Golf Course, Maderas Golf Club, Salt Creek Golf Course and Wavehouse San Diego.
Upcoming Events
Testimonials
"Everything was great! I was the coordinator onsite for the wedding day. Both the DJ and guitarist were very professional and easy to work with. The music was awesome and a huge hit with the guests! The groom was raving about the music too, he loved it! So, all was good
Kendra G., At Your Side Planning
August 2019
"The night was even better than I could have hoped. Spectacular musician! Extremely flexible and made the event easy, and amazing and unique at the same time."
Patrick M., Groom
August 2019
"He was great. As much as we can have him we'll take him."
Johnny F., Home and Away
July 2019
"Thank you so much for everything! For always being so responsive and helpful. The DJ was awesome, people really liked the music."
Vianney C., Pacific Building Group
December 2018
"Erik Fish did a great job at Tavern tonight."
Chase Z., The Tavern
September 2018
"Everything was great! DJ was very professional & a pleasure to work with!"
Lindsay D., Lindsay Dean Events
September 2018
"It went great!! Thanks so much! We were very happy."
Katie S., Advance Your Reach
March 2018
"Our night had a few little mishaps, but the one thing that wasn't messed up was the music and our DJ. You won't regret booking with SGM Events! They listened to what we wanted and delivered in spades!"
James L., Groom
November 2017
"Great Set, one of the better ones I have seen Fishfonics play! Staff and guests were all loving it."
Fred W., Barleymash
May 2017
"Thank you for this last minute DJ assignment. The system you have made this so easy. The kids have said they would like to use FishFonics in the future."
Jen W., Monte Vista High School
April 2017
"FishFonics crushes it every time!"
Keith B., Barleymash
March 2017
"Blew my expectations away, and to think one of my biggest concerns was that no one would be dancing!! There was a crowd on the dance floor from beginning to end we couldn't be happier!! Every song, transition, lighting was flawless from ceremony beginning to end of reception. Eric worked with my coordinator so well and I just hope he had just as much fun as we did! Thanks again!!"
Alysia W., Bride
November 2016
"Every email sent was responded in a timely manner and every question I had was explained in detail. This company was so helpful!! Our DJ was AMAZING!!! There was not one minute where people were not on the dance floor! Every song blended together so well and timing was flawless for the ceremony, cocktail hour and reception. We could not be happier!!"
Alysia W., Bride
November 2016
"Everything was great! FishFonics was awesome. We were really happy with everything!"
Matthew J., Groom
September 2016
"FishFonics was awesome and we had a wonderful and amazing time!! Everything was so great and I will be recommending him to my friends! Thanks so much for everything!!! "
Dani L., Bride
August 2016
"The DJ was wonderful! Exactly what the client asked for and he was very kind and easy to work with. I would absolutely recommend him again."
Leah W., Private Party
October 2019