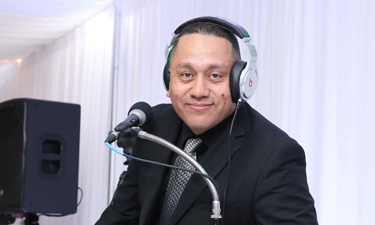 DJ Shy is one of the premier DJ's in the country with over 20 years as a professional disc jockey performing at thousands of corporate events, weddings, and night clubs throughout the world. DJ Shy also had the great honor in providing DJ services for the United States military troops overseas in Iwakuni, Japan.
DJ Shy is an elite mobile DJ, bringing true professionalism to the industry, who is reliable and ready to make your next event a fun and successful time. From the initial consultation till the end of reception, you can be at ease knowing DJ Shy will be at your side to help and guide you with any questions you might have related to your music and entertainment needs. DJ Shy is also bilingual fluent in Spanish.
With a positive and friendly personality DJ Shy can make you feel at ease while providing expert advice when consulting on music genres that your guests will enjoy. In addition to having many years of mobile disc jockey experience, DJ Shy also has a radio career and can be heard mixing on the radio throughout the USA, Virgin Islands and in the UK with radio legend Greg Mack on the national syndicated radio show – "The Greg Mack Show."
DJ Shy is very passionate about his profession as a DJ, while taking pride on all performed events by providing a world class service.
Upcoming Events
Feb 19
Shy
Coronado Community Center
Testimonials
"DJ Shy was great! He had everyone dancing and read the crowd well, tons of people went out of their way to express how great they felt the DJ was! He set up quickly without any issue and was exactly where he needed to be at all times and helped keep us on track with our timeline."
Madison G., Bride
October 2021
"Michael (Shy) was incredible! He did an excellent job engaging the crowd and keeping everyone entertained. He was very helpful during the planning process and had many excellent game ideas! So grateful that he could help with the event!"
Taylor W., Bride
June 2021
"DJ Shy was awesome! Thank you so much!"
Richard H., University of San Diego
January 2020
"Shy was great, sounds like the client really enjoyed them!"
Taryn H., Pendry
December 2019
"Everything went great! DJ Shy was amazing!!! He did a phenomenal job overall and read our crowd really well. We are getting great feedback and the party was a blast."
Amanda P., CI&T Inc.
December 2019
"Michael did an awesome job. The music was on point and he was great on the mic for the clients birthday. The guests were super happy with his performance!"
Brandon T., Creative Excellence
October 2019