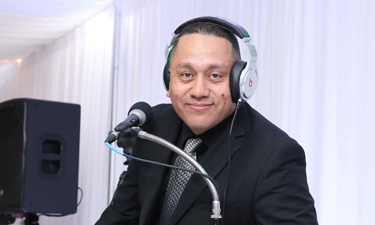 DJ Shy is one of the premier DJ's in the country with over 20 years as a professional disc jockey performing at thousands of corporate events, weddings, and night clubs throughout the world. DJ Shy also had the great honor in providing DJ services for the United States military troops overseas in Iwakuni, Japan.
DJ Shy is an elite mobile DJ, bringing true professionalism to the industry, who is reliable and ready to make your next event a fun and successful time. From the initial consultation till the end of reception, you can be at ease knowing DJ Shy will be at your side to help and guide you with any questions you might have related to your music and entertainment needs. DJ Shy is also bilingual fluent in Spanish.
With a positive and friendly personality DJ Shy can make you feel at ease while providing expert advice when consulting on music genres that your guests will enjoy. In addition to having many years of mobile disc jockey experience, DJ Shy also has a radio career and can be heard mixing on the radio throughout the USA, Virgin Islands and in the UK with radio legend Greg Mack on the national syndicated radio show – "The Greg Mack Show."
DJ Shy is very passionate about his profession as a DJ, while taking pride on all performed events by providing a world class service.
Upcoming Events
Sep 29
Shy
Moxy San Diego Gaslamp Downtown
Testimonials
"Working with DJ Shy was great. He is a pro and made it very easy throughout the day. Thank you to the whole SGM team for making Gian + Jonny's day perfect!"
Megan T., Magical Moments by Megan
August 2023
"We had a great experience! DJ Shy was timely, had great attention to detail, and picked the perfect music for our event."
Ana L., Planning Center
August 2023
"Michael was fantastic! They had a blast with him!"
Mary B., Elements of Style
July 2023
"All around excellent experience, thank you so much!"
David A., Groom
July 2023
"Michael DJ'd our wedding, and he did an amazing job. We had a lot of requests, and we felt like he delivered on them remarkably well. We had such a blast and our guests did too. The energy on the dance floor was amazing, and people were dancing through the final song. On top of that, he's a very nice guy and really communicative, professional and a pleasure to work with. We absolutely recommend DJ Shy! We are so appreciative and can't wait to recommend you to our friends!"
Heather S., Bride
July 2023
"Thank you so much for making mine and Kylie's night one to be remembered! We loved every second of it."
Isaac P., Groom
May 2023
"DJ Shy was so knowledgeable and professional. He included the songs we wanted played on our special day, which was so fun to hear! He made the night light up with his mixes and all the guests loved having him there as the DJ. Highly recommended!"
Raquel L., Bride
May 2023
"Hi DJ Michael,
Troy and I just wanted to give you another huge thank you. You truly made our wedding magical and kept all of our guests entertained. We had such an amazing time and I hope you enjoyed your time too.
Thank you again for everything!"
Desi K., Bride
May 2023
"Michael was very professional and great to work with!"
Begem L., Bride
March 2023
"We had DJ Shy/Michael for our ceremony and reception. We loved his energy, skills as a DJ, and overall genuine kindness. SGM as a whole is very responsive and flexible to fulfill your needs!"
Michelle O., Bride
November 2022
"Michael Cabrera was amazing and so helpful! Our guests couldn't stop talking about how great of a wedding we had and that everyone had so much fun and that was a large part due to our DJ getting everyone involved and dancing. Our dance floor was hopping! We loved every minute of our day and night.
Thank you so much Michael!"
Ryan P., Groom
November 2022
"DJ SHY (Michael) was such a pleasure to work with. He was professional, an incredible DJ, and a calming presence for my fiance and I. He completely killed it on the dance floor as well, and kept our entire wedding party of 165 people on their feet! What an incredible weekend. You completely rocked the house and everyone was talking about how good you were the next day. So THANK YOU for making it an awesome day for us man, it's so appreciated."
Greg O., Groom
October 2022
"Michael was absolutely wonderful and extremely professional!"
Kayla B., Bride
September 2022
"My husband and I had our reception at Lot 8 on Friday August 19th. I wanted to thank you for doing an incredible job. I received so many compliments on your behalf. We are so happy with your service/performance and I will be recommending you to everyone that I can. Good luck in the future!"
Meghan J., Bride
August 2022
"Thank you so much!! I was lucky to work with DJ Michael (aka DJ SHY) and he was awesome. Great vibes, flexible, listened to what I wanted and understood the vibes I was going for from ceremony through reception. Btw EVERYONE that we saw the next day told us how much they loved the playlist and how much fun they had dancing! And how you asked some of our guests names who were on the dance floor all night! They felt so special lol. We also LOVED how many inspiring couples we had for the anniversary dance! You killed it!! Very professional and great experience all around!"
Jasmine L., Bride
August 2022
"We had the pleasure of working with Michael Cabrera (DJ Shy) for our wedding! From our initial interview meeting with him, Michael was extremely friendly, warm and easy to work with. He helped offer suggestions for our timeline, different versions (slower/faster paced) for our first dance and shared lists of other songs that we had to consider for other parts of the night (ie songs for father/daughter, cake cutting, bouquet tossing, etc). It was also easy to share with him the songs we wanted at our wedding via Spotify or Google docs. He went with the flow of the night and kept our guests dancing and having a good time! The music was perfect for everyone, even with the kids and older generations. We loved his energy and enjoyed an incredible night. I would absolutely hire Michael again for any future events, and would happily recommend him and Sleeping Giant Music!"
Tracy T., Bride
April 2022
"Michael was fantastic in every aspect, we're so grateful to have had him DJ our wedding."
Jake A., Groom
April 2022
"SGM Events was so easy to book with - prompt, flexible, and professional. We booked DJ Michael Cabrera (aka DJ Shy) for our wedding and he was excellent. He took into account all of our music preferences and even sent us a list or recommended songs for the father-daughter dance, entrance song, cake cutting, etc. High recommend SGM Events and DJ Michael Cabrera!"
Paige D, Bride
March 2022
"DJ Shy was great! He had everyone dancing and read the crowd well, tons of people went out of their way to express how great they felt the DJ was! He set up quickly without any issue and was exactly where he needed to be at all times and helped keep us on track with our timeline."
Madison G., Bride
October 2021
"Michael (Shy) was incredible! He did an excellent job engaging the crowd and keeping everyone entertained. He was very helpful during the planning process and had many excellent game ideas! So grateful that he could help with the event!"
Taylor W., Bride
June 2021
"DJ Shy was awesome! Thank you so much!"
Richard H., University of San Diego
January 2020
"Shy was great, sounds like the client really enjoyed them!"
Taryn H., Pendry
December 2019
"Everything went great! DJ Shy was amazing!!! He did a phenomenal job overall and read our crowd really well. We are getting great feedback and the party was a blast."
Amanda P., CI&T Inc.
December 2019
"Michael did an awesome job. The music was on point and he was great on the mic for the clients birthday. The guests were super happy with his performance!"
Brandon T., Creative Excellence
October 2019