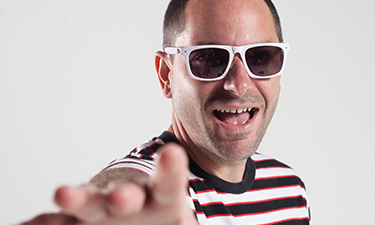 From his diverse selection of music to his experience rocking large scale arenas and venues, Mike Czech is called upon by some of the biggest names and venues across the U.S. because they know he will deliver. He has the ability to play and cater to any crowd: from a 40's & 50's ball to an 80's dance party or a hip-hop B-Boy battle to a larger than life rock concert. Not many DJs are capable of catering to these niche markets, but Mike Czech's knowledge and experience makes him the perfect versatile DJ for any occasion. It's because of his commitment to music and his passion that he delivers sets that always impress his clients. Mike Czech is sure to seal the deal to make your event one that your guests are sure to remember.
Venues & companies that Mike Czech has worked with: Clear Channel Media, Vavi Sports, Oysterfest, Embarcadero Marina Park, Stingaree, Hard Rock Hotel San Diego, MAC Cosmetics, North County Fair, Puma, Playstation, Vudu Fest in New Orleans, Horton Plaza, Warner Group, Monster Energy Drink, VIP Lounge at Epicenter, Belly Up Tavern, Osiris Shoes, Marquee Pool at the Cosmopolitan of Las Vegas, Oakley, La Quinta Resort and Club in Palm Springs, Atomic Ski & Snowboard, and The Palladium.
Upcoming Events
Testimonials
"Mike Czech was great! He was on time, checked in with me on music preferences and when he should break down. The guests had a great time and really enjoyed themselves."
Ratry P., RIVO Holdings
August 2021
"Mike was awesome. He is a natural at what he does!"
Kimberly B., Ortho2
March 2020
Angela D., Emergency Nurses Assciation
January 2020
"Mike was awesome! He kept the place buzzing!"
Lynn P., Trump Card Inc.
December 2019
"Mike was fantastic!! He read the crowd well, got them all dancing and the change out between him and Claudio (the birthday boy's DJ friend), was perfect. He even dressed the part [rockstar]!!!! I'll look forward to booking Mike more in future. :) Thanks again."
Shayna J., Vario
October 2019
"Everything went well! Looking forward to the next one."
Courtney L., Hello! California Destination Management
October 2019
"Everything was awesome as usual! Thanks so much!"
Marco P., Coronado Brewing
October 2019
"You guys crushed it as always.Thanks again."
Marco P., Coronado Brewing
July 2018
"We are big fans of Mike Czech! He always does an amazing job and mixes up the music based on what's going on both in the crowd and on stage. Very flexible and open to input/suggestions. Thank you for another awesome gig!"
Ashley O., Boo Ball
October 2017
"Mike Czech was great last night. He was professional, listened to mine/clients/venues needs, and helpful. All in all, a success! We look forward to working with him again."
Ciara F., AZA Events
September 2017
"Another great year and great event with the help of DJ Mike Czech. Thanks so much to you and your team!"
Melanie U., UCSD Event Organizer
August 2017
"We love Mike Czech!! So easy to work with, a true professional in every regard and an extremely talented DJ!!!"
Ashley O., Clear Channel Media
October 2016
"On time and very professional. DJ Mike Czech did an awesome job. Would recommend this company and DJ to anyone. Thanks again!"
Ryan A., Viejas Casino
October 2016
"DJ Mike Czech did a phenomenal job as always. Thanks so much!"
Melanie U., The Little Grad Picnic
August 2016
"Mike Czech is AWESOME and the clients really enjoyed him."
Arron R., Hard Rock San Diego
July 2016
"Had a great time with Mike Czech, everyone enjoyed his selection of music. I will keep you guys in mind for future events."
Noelle F., Intercept Pharmaceuticals Inc.
June 2016
"Event was great. DJ Mike Czech was awesome to work with and he really brought the party last night. We had 200 people just loving his house music mash up's at the Wavehouse and they would have rocked out till 2:00am if the city would have allowed a sound ordinance until then. I though the wooden decks everyone was dancing on were going to implode. Had to shut down at 10:05pm. Haha. Solid performance!"
Jonathan R., Destination Concepts Inc.
April 2016
"Mike Czech did an excellent job! We were so impressed and we would definitely hire him again. Thank you!"
Melanie W., Private Party Client
January 2016
"We love Mike Czech – he always kills it!!"
Ashley O., Clear Channel Media
November 2015
"Mike Czech did a great job and is always a pleasure to work with. He is easygoing and comes prepared. He also is able to think on his feet and accommodate last minute changes. Our team loves working with him and hopes to work with him at each Little Grad Picnic."
Melanie U., Little Grad Picnic
August 2015
"LOVED HIM. Everything was great!"
Paige W., The Event Team
January 2015
"The event went well. Thank you."
Jennifer S., Lifespan PT
December 2014
"Thank you guys – we always loving have Mike Czech at our events!"
Ashley O., Clear Channel Media
November 2014
"Mike Czech is always amazing! We love having him here at the Hard Rock! Thank you for another kick a** night!"
Danielle S., Hard Rock Hotel
October 2014
"Rico, Mike Czech, and Who and Paulo da Rosa were all great. They were professional and easy to work with."
Martin D., Allied PRA
September 2014
"Thank you again for your help with a wonderful event!"
Erin M., The Little Grad Picnic
August 2014
"DJ Mike Czech is great. Glad we could have him. He even took the time to talk music and explain DJ techniques to some of the children there. Awesome day of music."
Chris S., Reality Changers Festival Coordinator
November 2013
"Thanks for coordinating the DJ services for us. Your work helped benefit our "little grads," discharges/patients, of UC San Diego Health System's Neonatal Intensive Care Unit (NICU) and their families, our physicians, nurses, staff and the San Diego Community at large – everyone had so much fun, thanks to your work. We could not have done it without you!"
Christina D., UCSD Event Committee
September 2013