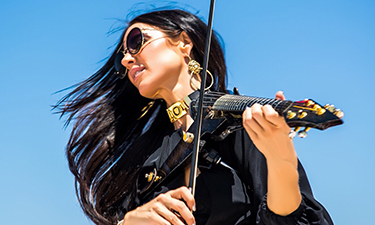 Jennifer Spingola, known as "Spags", has been amazing audiences around the world for years now with her virtuosic technique, inventive arrangements, and compelling performance style.
Widely known on the scene as "the dj violinist", Spags creatively merges the classic violin world with the modern music world. Her unique artistry keeps her in demand throughout the United States, as well as internationally, where she can be heard performing at socialite parties, exclusive weddings, trendy nightclubs, sophisticated wineries, international trade shows, and high fashion runway events.
Classical training from an early age, on both piano and violin, along with a music degree from the Pennsylvania State University are responsible for shaping her technical foundation, while her undeniable love for a soulful groove, an infectious hip hop hook, a contemplative melody, or a raw rock n roll beat, are at the heart of her playing. Her intrinsic desire to remain connected to her audience allows her to remain relevant across broad spectrums.
Some of Spags recent highlights include personal performances for Magic Johnson, Mitt Romney and Jerry Jones of the Dallas Cowboys, to name a few. She has toured with rock legend Dee Snider of the band Twisted Sister as well as Latin piano sensation Raul di Blasio and performed as the opening act for Steve Vai, Jaylib, Foreigner and the band FUN. Additionally she produces and performs in runway shows for many of LA's top fashion designers. Some of her corporate clients include AOL, the AVP, Aston Martin, Bentley, Cartier, Juicy Couture, Porsche, Qualcomm, and the San Diego Chargers.
Keeping a steady finger on the pulse of current trends, and consistently raising the bar for industry standards, Spags continues to rise to the forefront of the music industry, where she can be heard bowing her way into the hearts and souls of those around her.
Testimonials
"Outstanding performance. Received a lot of great feedback. Also, blended really well with the DJ's later on in the evening. Well done!"
Aron L., Barleymash
May 2018
"Spags and DJ Bernard Gonzalez were perfect! They were professional, flexible and very talented! It was so nice to work with such great vendors and have an even better outcome then expected! Thank you Sleeping Giant Music and SGM Events!"
Michelle E., Bride
October 2016